(This post was updated on 1/8/17 to add more useful information for pet parents).
The month of February is the American Heart Association's American Heart Month. The American Heart Association hopes to educate American's about the threat of heart disease, particularly in women. You may have seen many celebrities, or TV personalities, wearing the color red in honor of American Heart Month.
I think that American Heart Month is also a good time to talk about heartworm disease. Many pet parents give their pets regular heartworm preventative because it comes with the flea preventative. But how many pet parents know what heartworm disease is, and how it threatens our pets?
According to the Merck/Merial Manual for Pet Health, heartworm disease is caused by a worm (Dirofilaria immitis) that is both preventable and treatable, but can be fatal to dogs and cats. The disease is transmitted through mosquitoes that carry the larval form of the worm from an infected host to a new host (Merck/Merial). The larval form of the worm will eventually grow into adult worms that live within the vessels surrounding the heart and lungs (Merck/Merial). The worms cause inflammation in the vessels and lungs putting severe stress on the heart (Merck/Merial).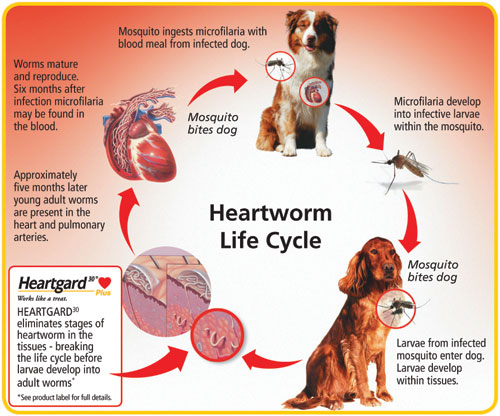 The above figure is courtesy of Heartgard (a heartworm preventative). It explains the heartworm life cycle and the way Heartgard prevents heartworm infection. Heartworm preventative should be added to your monthly routine starting at 6 to 8 weeks of age (Merck/Merial). There are many products available that effectively prevent heartworm disease, so be sure to discuss with your veterinarian the type of preventative you want to use. For Rooney, I use Revolution which is a combination of flea and heartworm prevention.
What are the signs of heartworm disease (Merck/Merial)?
coughing
labored breathing
exercise intolerance
fainting
nose bleeds
fluid filled abdomen
blue or purple coloring of the skin
spitting up blood
How is Heartworm disease treated?
There is only 1 treatment available for heatworm disease, and its use will depend on the medical history of your pet (Merck/Merial). Back in 2012, I saw a dog treated for this disease, and the treatment was so hard to find we had to order it from Europe. The treatment protocol is long and can cause discomfort for your pet.
Heartworm Disease by Region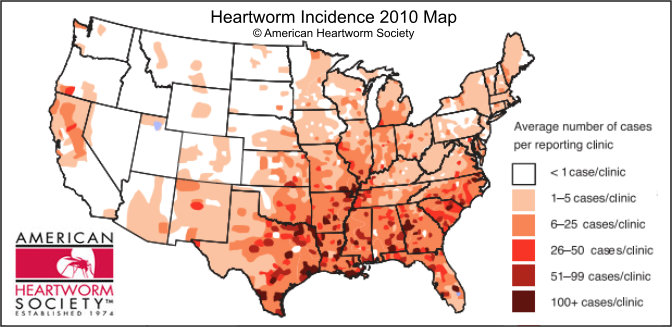 As you can see from this map (courtesy of American Heartworm Society), the highest density areas are in the Southern part of the United States, but that doesn't mean your pet is free from risk if you live elsewhere. Be sure to know where the high risk areas are in your region, and be sure to be strict about giving heartworm preventative if you visit those areas frequently.