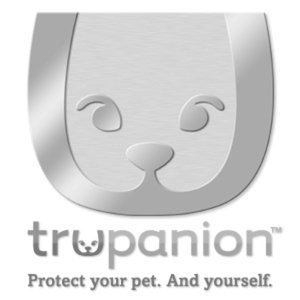 A few days ago I received a GREAT piece of mail from Trupanion Pet Insurance.
Rooney is insured under Trupanion, which I previously wrote about here. I decided to get Rooney insured shortly after we adopted him because I knew I couldn't afford an emergency, but I could afford a monthly payment. I learned about Trupanion while working at veterinary hospitals, and I felt their pricing and coverage was the best win-win situation I could find as a pet owner.
Besides the fact that Trupanion has an amazing business model that allows them to cover many ailments for pets, they have core competencies that strongly relate to what I need and want as a consumer. Without getting to "business school-ly" on everyone I briefly want to talk about how important their letter was to me and our family, and what that says about their business.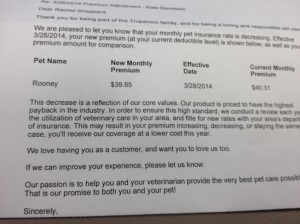 The letter, seen here, says that their research of the utilization of veterinary care in my area has warranted a decrease of my premium. That's right,….my bill decreased. Think to yourself, when was the last time you had a bill decrease and it had nothing to do with your efforts as a customer?
Now if you look at the bill itself, the research decreased my bill by  $0.46 per month, which will save my family $5.52 this year. Now I know this is not a lot of money, but it is the principle that I find to be so amazing.
Trupanion promises that as a company they will give you the highest return and payback in the veterinary insurance industry and they show that they care about you and your family by performing research on your behalf.
Trupanion's insurance program and premium is based on a number of key aspects: 1) Your location (established by zip code), 2) The breed of your pet, 3) The age of your pet 4) The gender, and 5) The deductible amount (which you choose). They designed their program with these aspects in order to provide their customers with fair pricing.
If you haven't considered pet insurance before, you may want to. When I have recommended pet insurance to people in the past, these are the questions I am typically asked:
How expensive is it?
The answer to this questions depends on your deductible, but not your coverage. For example, as humans we select our different health insurance plans based on the amount of coverage we want, and that coverage dictates our monthly payment. With Trupanion, you enter basic information, and then you use their scale to choose the deductible and monthly payment that you want. The deductible and monthly payment are based on the criteria you entered.
Can I lower my payment?
YES! Let's say you decide that you can afford more in an emergency situation, you can call and change your payment to reflect a higher deductible?
What isn't covered?
Routine Care (vaccines, annual exams)
Exam Fees
Preexisting conditions (therefore, the earlier you get your pet signed up, the better)
Sales Tax
I have heard countless testimonials from people regarding emergency situations where they didn't have to stop and think about cost, because they knew 90% of the accident or illness costs would be covered. The piece of mind pet insurance can bring to you is incredible.
Learn more about Trupanion here.  And click the link below to get your free quote!
http://trupanion.go2cloud.org/aff_c?offer_id=2&aff_id=2571