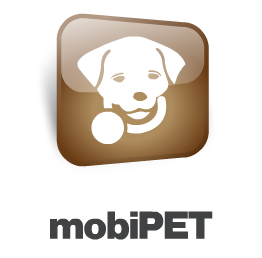 Not too long ago we had our neighbor run up to us and say, "Have you seen our dog?".
Unfortunately, neither my husband or I had seen any dog other than our own, but just in case we ran into him, my husband asked, "What did he look like?"
The lady responded with a vague description of her Chihuahua and wasn't sure what other information to give us.
Man oh man did she wish she had mobiPET.
mobiPET is a pet tag alternative to microchipping, which essentially functions as an amber alert for your pet. They use patented photo recognition technology that allows the photo, sent in by the owner, to be reprogrammed with the pet's information and the owner's contact information to create an alert.
When you notify mobiPET that your pet is missing they then send out a photo alert of your missing pet by text or email to all registered users within a 2 mile radius and participating veterinarians, shelters and boarders within a 30 mile radius!
Did you know that 10,000 pets are reported missing every week? mobiPET is well needed.
How do you get your pet registered? 
You can register your pet from your phone or computer at http://getmobipet.com all you need is a photo of your pet on that device.
How much does it cost?
$24.95 will be the cost for pre-order of the mobiPET, and there will be an annual renewal fee of $9.95.
Not only are you registered, your pet will receive a black metal tag for their collar with a unique ID.
That ID will allow those who find your missing pet to receive your contact information by taking a photo with their mobile device.
Although Rooney is microchipped, I will be registering him as well since my neighbors don't have scanners for microchip, and our contact info has scratched off his current tag.
How do I get my mobiPET?
mobiPET is still in beta testing and needs to raise funds in order to go to market. You can help out by pre-ordering your mobiPET before March 31st!
Obviously, the program benefits from more people and pets being registered with mobiPET. Therefore, mobiPET is letting me do a giveaway for US residents!
To find out more information about mobiPET please visit their Facebook Page https://www.facebook.com/mobiPET and their Twitter Page https://twitter.com/mobipet.
Disclaimer: I received free product in exchange for my unbiased opinion. mobiPET is not responsible for the content of this post.