I was so lucky to recently make a connection with a fabulous romance novelist named Catherine Mann, who uses her flexible schedule to foster dogs for her local animal shelter in Florida. The shelter is complete with an onsite veterinary clinic, which allows them to take on rescues with complicated medical issues.
Catherine has fostered more than 100 dogs in her years working with her local shelter! Catherine has seen many dogs recover and move on to their forever homes, but one day Faith came into her life, and she just new that she was already home.
Faith was a three month old puppy in a litter of 7 American Bulldog mix puppies that came to the shelter. By the time they arrived they already had hookworms and caught kennel cough, which quickly developed into pneumonia.
The stress of being in a shelter environment would not help these puppies recover, and time was not on their side, 3 of the puppies were already beginning to fade. So Catherine offered to take them home and quarantine them (due to their contagious state), at her house. By the time they arrived at Catherine's house, none of them could eat on their own. Catherine began hand feeding them and giving them subcutaneous fluids multiple times a day to get them on the road to recovery. In addition to  being weak and immunosuppressed, the puppies were still fighting pneumonia and needed to take trips to the clinic for nebulizer treatments.
Sadly, 3 puppies were lost to the many ailments this litter suffered from, but the 4 remaining puppies are approaching their 1st birthday! While caring for the puppies, Catherine developed a special bond with Faith and decided to adopt her.
The pet parents are currently planning a reunion with her litter mates to celebrate their upcoming birthday.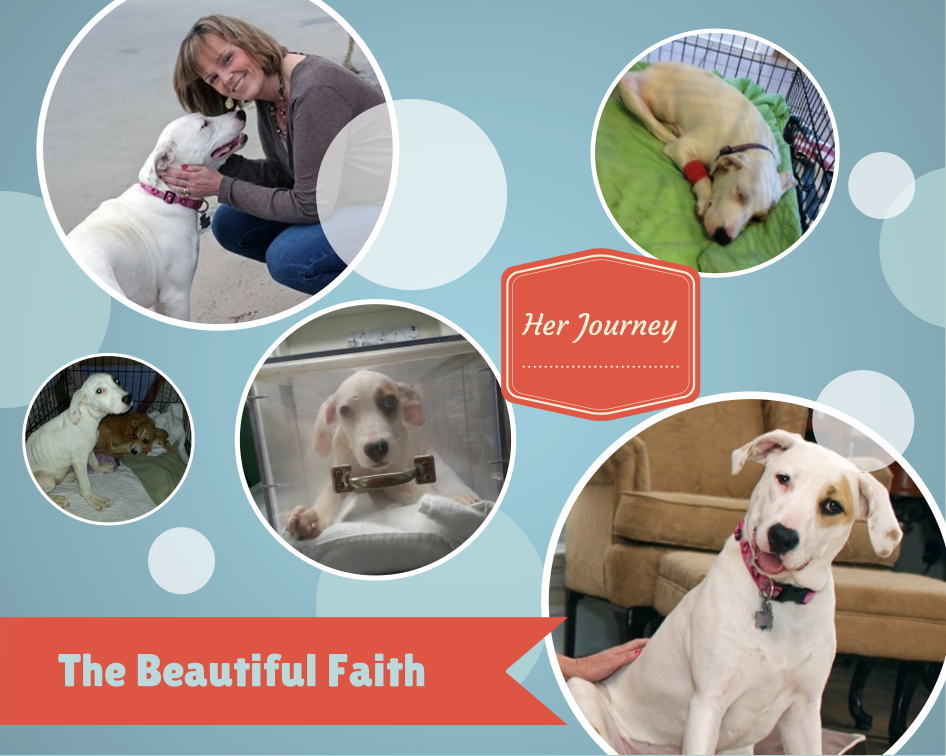 I recently had a minor case of pneumonia and I can't begin to imagine how difficult it was for these poor puppies to breathe in addition to having hookworms and a weakened immune system. Many people understand the severity of pneumonia and its ability to do significant damage to your body, but many may ask the question…
What is pneumonia?
Firstly, it is important to know that there are different types of pneumonia that can be diagnosed in dogs. The word pneumonia refers to an inflammation in the lungs.
1) Interstitial pneumonia refers to inflammation in the walls of the alveoli, or the interstitium. The alveoli are cells that are responsible for the exchange of oxygen and carbon dioxide on the wall of the lungs. This type of pneumonia can occur in both dogs and cats. According to PetMD, this type of pneumonia can be caused by a birth defect, uremia (excess levels of nitrogenous waste products appear in the blood stream), lung cancer, or inhalations of toxic dust, gas or vapor. Many dogs with severe symptoms will be treated in hospital with oxygen therapy.
2) Fungal Pneumonia is a deep fungal infection in the lungs that causes inflammation of the lung tissue. This type of pneumonia occurs less often in cats. Fungal pneumonia is geographically varying. Exposure to any pneumonia causing fungi, in any environment, may lead to the development of fungal pneumonia. PetMD advises that you keep your pet clear of soils that are ripe in organic matter, bird droppings, or fecal matter. Hospitalization and oxygen therapy may be necessary to treat your pet, pending the severity of the infection.
3) Eosinophilic Pneumonia leads to an abnormal accumulation of white blood cells called eosinophils, caused by foreign substances, or antigen, in the lung. Antigens can cause disruption in the body through inhalation, ingestion, bitewounds, or injuries. The increased number of eosinophils causes fluid to build up in the lung tissue, this leads to swelling of the lung tissue and a decreased lung capacity. This type of pneumonia is caused by pollen allergy, insects, parasites or infection (PetMD). Steroids are often used in this case to reduce the inflammation in addition to oxygen therapy and in-hospital care.
4. Pulmonary Fibrosis is caused by inflammation and scarring of the air sacs in the lung. The scarring causes the fibrotic tissue buildup which causes the tissue to become thick. The thickness of the lung tissue decreases the ability of the air sacs to pass oxygen to the bloodstream. Westhighland, Staffordshire, Cairn, Border, and Norfolk Terriers are all genetically predisposed to pulmonary fibrosis. Other breeds can become affected by this disease due to viral infection, acute pancreatitis, toxins, or environmental damage (PetMD). This is a life threatening disease and needs to be treated immediately, many pets will be hospitalized and provided with supplemental oxygen.
5. Aspiration Pneumonia is caused by an inhalation of foreign matter, usually due to vomiting or regurgitation. Other causes are due to a pharynx disorder or other problems associated with the esophagus. Bacteria present in the matter inhaled can cause the infection. This is also more prevalent in dogs than in cats (PetMD). Oxygen may be required for stabilizing treatment.
 6. Bacterial Pneumonia is caused by disease-causing bacteria primarily caused by inflammatory cells and fluid in the lungs, airways and alveoli. Often this disease is caused by an existing viral infection, difficulty swallowing, metabolic disorders and regurgitation (PetMD). Bacterial cultures may need to be taken in order to determine the proper antimicrobial treatment. (This is the kind that I had!)
Many of these types of pneumonia are opportunistic when it comes to malnourished pets. Faith and her surviving siblings received nebulizer treatments (seen above) to treat their pneumonia.
What symptoms should I watch out for?
Fever
Nasal Discharge
Coughing
Difficulty Breathing
Loss of Appetite
Lethargy
Panting
Exercise Intolerance
As you can see from the photos above, Faith was strong enough to overcome a rough puppyhood. Hopefully this post will help you be prepared if you ever need to face pneumonia in the future.
Has your pet ever had pneumonia?
Please take the time to check out Catherine's website, here.