Previously, I had the pleasure of collaborating with a lovely romance novelist named Catherine Mann, who does amazing rescue work with her local shelter.
Recently, she contacted me with a very interesting rescue story, a puppy named Bingo who was found in a ditch at 3 weeks old, and suffered greatly from Juvenile Cellulitis, which is more commonly known as Puppy Strangles.
What is Juvenile Cellulitis?
It is a condition, cause unknown, that presents in puppies between the ages of 3 weeks and 4 months. According to Pet MD, the outer part of the ear and the salivary (think saliva) lymph nodes are most commonly affected. The condition causes sudden and severe swelling that occurs on the face and muzzle.
According to Veterinary Partner, very quickly, the lymph nodes in the throat begin to swell, and the puppy begins to appear to have mumps. This swelling can lead the way to pustules, or skin that becomes both crusty and bloody.
When Bingo was found at 3 weeks old, we was completely unrecognizable to the rescue staff. Catherine described him as "swollen beyond recognition". He was completely malnourished, emaciated, and had a temperature of 94 degrees!
Despite treatment, Bingo had a second round of pustules pop up, and that is when the veterinarian diagnosed him with puppy strangles and began treating him with steroids, the common treatment of choice for this disease (PetMD).
After his steroid treatments, he made a speedy recovery. Catherine oversaw his steady climb back to being a healthy puppy, and was sure to socialize him as his health improved. Now, he is a big boy and lives a very happy life.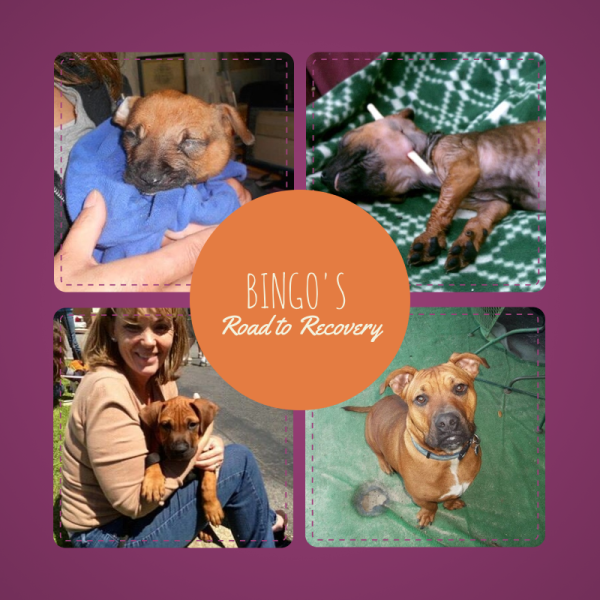 As always be sure to check out Catherine's website http://www.catherinemann.com, and her Facebook page, https://www.facebook.com/CatherineMannAuthor. She does amazing work for animals so we should all show some support! Yay Catherine and yay Bingo!