Recently, I suffered from a mild case of Rhabdomyolysis, which is defined as the destruction of muscle cells caused by an inadequate supply of blood to the muscle tissue after exercise (Merck/Merial).
After a case of pneumonia in late January, I took a break from exercise. I attend a Crossfit gym in Pleasanton, California. If you are unfamiliar with Crossfit, it is a form of exercise that has become very popular in recent years, and basically uses high intensity workouts to get you in shape. I love crossfit and it does a great job of keeping me in shape. That being said, after taking a 3 week break due to pneumonia, I came back and did a full workout with few moderations. To no fault of my coaches (just my own), I suffered from a severe breakdown of muscle tissue because I didn't listen to my body. This brought on extreme soreness, and secondary swelling of both of my arms.
After talking over my symptoms with my coaches, I realized I had a mild case of rhabdomyolysis. I was lucky, severe cases can cause kidney disease.
Being who I am, I thought to myself…"Do animals get Rhabdomyolysis?"
They do! In fact, it made perfect sense once I thought about it. Rhabdomyolysis, or Exertional Myopothy, occur most often in racing Greyhounds, working dogs and race horses.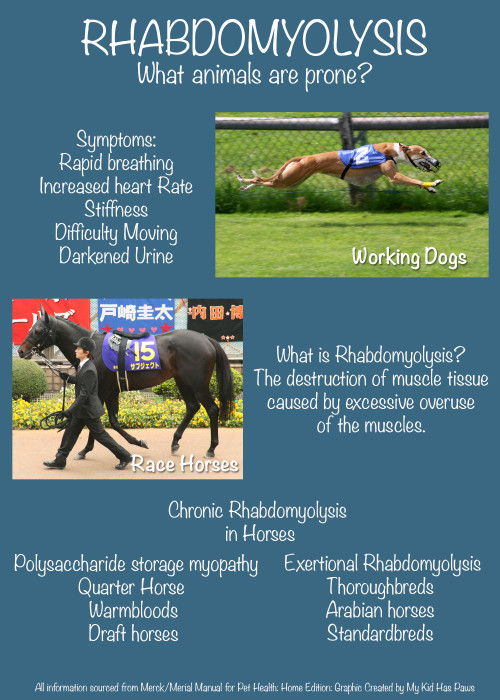 Horses
In race horses, this condition is referred to as "tying-up" or "cording-up". Specifically in horses, if they have been forced to go back to work after a period of rest where their food has not been restricted, the dramatic change in activity causes lactic acid and glycogen build up that damages the muscles (Merck/Merial).
In horses, signs include excessive sweating, rapid breathing and heart rate, refusal to move, and painful hindquarters (Merck/Merial). This condition can be seen at both occasional and chronic rates in horses. When the disease occurs sporadically, it is often due to excessive use of the muscles. More specifically, the exercise taken on by the horse exceeds their training. This was very true for myself, I had gone from not exercising for 3 weeks to an intense workout. Treatment includes stopping exercise, hydrating, and resting in a comfortable area. Severe cases can cause kidney damage, so blood and urine tests should be conducted in order to access damage to the kidneys.
Horses can also experience chronic cases of rhabdomyolysis. Chronic cases can be due to heritable conditions. For example, according to Merck/Merial, there are two types of chronic rhabdomyolysis: polysaccharide storage myopathy and recurrent exertional rhabdomyolysis.
Breeds related to the Quarter Horse, Warmbloods, and draft horses are prone to polysaccharide storage myopathy (Merck/Merial). This condition can be due to diet, and may be avoided through changes in the horse's nutrition.
Thoroughbreds, Arabian horses, and Standardbreds are prone to exertional rhabdomyolysis. This type of rhabdo is most likely due to a lack of calcium regulation in the muscle cells. According to a study published in the Journal of the American Veterinary Medical Association, in some horses exertional rhabdomyolysis may be due to an abnormal carbohydrate metabolism, and feeding a low carb diet may reduce the occurrence of this condition. To read more from this study, you can click here.
Dogs
Often, the symptoms occur 24 to 72 house after exercise. Symptoms include stiffness or rapid breathing, and severe cases experience kidney failure. Diagnostics include urine and bloodwork. Treatment can include in-hospital supportive care.
All information for this post was sourced form Merck/Merial Manual for Pet Health: Home Edition, 2007.