Hello everyone!
I was chatting recently with my good friend Lindsay, and we quickly got on the subject of her cat Rhea. She was telling me that her cat, Rhea, constantly tries to escape out of their apartment, and sometimes she succeeds.
Lindsay and her husband feel its important to keep Rhea indoor in order to protect her in their high traffic area, but her urge to escape is becoming an issue especially when they are on their way to work.
So I decided to invite my resident guest blogger and trainer, Suzanne Dean to write up a post about this very issue.
Suzanne, take it away…
Hi everyone, Suzanne The Dog Training Lady is back and The Dog Training Lady has gone to the cats.
My main focus may be dog training, but I also have 4 cats.  They too are the love of my life.
 Most cat owners know that indoor cats live a much longer life because they are not exposed to all the dangers and diseases as their outdoor counterparts.  Your cat doesn't understand that you are protecting him, or her, by keeping them inside; all they want is to explore and chase things.
 Do you have a cat that is always trying to escape?  Do you know that cats are trainable in a very similar way to dogs?
 If you own a cat that is always trying to escape, it is fundamental to making your exit ways cat-proof and make your exits unattractive to your feline family members.  Now cat proofing your exits is much more of a challenge than dog-proofing them.  Cats can jump, pretty high too, so we need to look at things that will keep their interest away from the doors.
I have several options that you can utilize.  Try one or all of them, if you like.
First and foremost, if you have a cat, even if they do not try to run out the door please, please, have them micro-chipped.  I can't tell you how important this is for escapees, but you never know what can happen in emergency situations.  A microchip will help you become reunited with you pet much faster.
I want you to know that I have effectively used all of these methods to train my cats from running out the front door.  I can tell you with full confidence that these methods work.
 One very effective method is to use a deterrent by the exit ways.  The deterrent I am talking about is a device that uses a motion sensor that will make a warning sound and shoot a blast of air when the cat comes close to it.  Depending on the size of your doorway or exit area, you may need more than one.
You may want to find the ones that will just shoot out air; sometimes the sound can get really annoying to humans as well as your cat.  Remember this could go off if your cat approaches the area in the middle of the night.  Not cool.
 There are many good companies out there that make this product.  This will cause your feline friend to, shall I dare say… haul tail in the other direction, without being harmed.  They also have ones that will spray water, but I don't think you want that inside your house.  So be sure to read about the functions of the device before you purchase it and end up with puddles inside your home.
 Cats need to hunt; it's part of their DNA.  So your next choice is to have hunting type toys available for them.  Provide toys that they can throw around and chase.  You also need to engage in play with your cat, a lot, in a way that they are chasing something.
Cat toys such as the feather on the end of a string attached to a stick; when moved slowly gives them the opportunity to run and pounce on it.  My cats just love the little mice made of cloth or felt that have catnip in them.  They get their claws in them and start tossing them around the room and running after them.  It's pretty entertaining for us to watch too.
 I have even purchased a DVD that is made specifically for cats; it is actually called "The Cat Sitter DVD".  It runs all day and shows real video of mice, birds, fish, and the like in their natural environment.  If you have a cat that is attentive to the TV this is a really good option.  Don't worry they won't become a couch potato.
 I have also strategically placed a very large cat tree by a window, and cleverly placed a bird feeder outside that window.  It really keeps their attention, and it is so funny to watch their tails whipping back and forth when there is a bird at the feeder.  Cat owner friends have also told me that squirrel feeders will get the same kind of reaction.  Your cat will have the enjoyment of watching these animals come and go throughout the day.
 If you have the space a catio is a great option to let your cat get some fresh air and still stay safe.
 What is a catio you ask?
A catio is and outdoor enclosure for cats.  This gives them the opportunity to go outside when the weather is nice, and not get in to trouble.
 One of my favorite shows "My Cat From Hell" with Jackson Galaxy has helped many people with ideas for catios.  A simple Google search will help you find a design that will work for the area you have available for this.
I am fortunate enough, that I have a large backyard and I can tell you from experience my cats love it.  I had my husband attach the structure to our screened patio.  We replace one of the screen panels with plexi-glass and installed a cat door.  We also have a cat door installed on the door that leads out to the patio.  This allows the cats to run in and out at their leisure, so they have no need to run out the front door because they have this access to the outside.
 Apartment and condo dwellers usually have a patio area where you will be able to create such a space for your cat.
 If this is not an option for you, then it is time to get your cat out for regular walks.
 Yes, walk your cat.  I have done this myself and will tell you that it takes time and patience to do this.
 The first step is to get your cat use to a harness, by having them wear it in the house for a short time. Do this for several days until your furry friend seems to feel comfortable in it. This will help them get use to the feel of the harness; you don't want to introduce too much to soon.
You can't just throw a harness on them attach the leash and out the door, it doesn't work that way.
Do not use a collar for this situation is must be a harness, your cat can easily slip out of a collar and your back at square one.  Once your cat is use to the harness, put the leash on and practice walking with them on the leash inside the house.  Again, you want to do this daily until they are comfortable with it.
Cat leashes are very thin and small.  Unlike dogs, if a cat feels a large heavy object attached to them, they're down.  They won't go anywhere, they will lie there, and not move because they think something is wrong.
 Cat leashes are made in such a way that the cat should notice them.  Don't try and use a small dog leash as the weight of it will still affect your cat, you need to purchase one that is specifically designed to be a cat leash.
 Now you need to remember that if you have used one of the deterrent devices, your cat may be a little hesitant to go near the door.
 This becomes a matter of training, when they have their harness on, it should mean to them that outside is okay, so be sure to remove any deterrent device when practicing with the harness in your home.
 This will help your feline understand the difference, keeping in mind that your cat has the chance to escape during this training time.
 These are the methods I have used, and successfully trained my cats not to run out the door.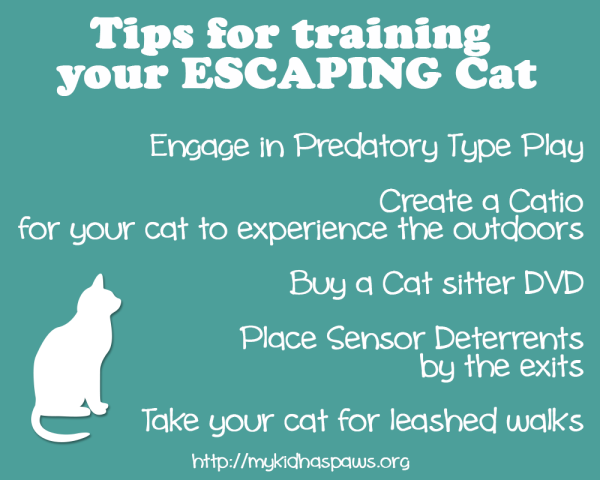 So remember if you have an escapee, try one or more of the following training methods.
Engage in predatory type play, and a lot of it. Try using the feather on a stick or cloth mice.  You can even look for other play items at the pet store that you feel may interest your cat in particular. No one knows your cat better than you do.
If you have the space create a catio area for your feline friend, this will give them a chance to have a safe place in the great outdoors.
If you have a TV watching cat try the cat sitter DVD's
Using the sensors that blast air as a deterrent by the exit areas will teach your feline to avoid those areas.
If you are up for it, it's time to walk the cat.
 Bring along a healthy dose of patience as this will take time.
 These methods do work, and are the best and most effective ways to help your feline escapee to be happier to stay in the house then try to run out the door.
 I know if you put in the effort you will have a much happier cat and you will be able to feel more at ease when you open the door.
 Purrsitively Yours,
Suzanne Dean, ABCDT
 I want to thank Suzanne for taking the time to do so much research and to help us learn more about training our cats.
Please be sure to check out her new eBook:  training book, Puppy Potty Training THE RIGHT WAY: The Schedule That Makes Everything Else a Walk in The Park, on Amazon, here.
Additionally, please be sure to check out her Facebook page, here.
Always feel free to leave us a comment and let us know if there is a training issue you would like researched. 🙂