I don't know about your dog, but Rooney loves to swim!
He loves it so much he will willing jump into a pool with or without me in the yard.
For that reason, I need to take important precautions with Rooney and pools.
First, I think it is important to understand what traits make certain dogs really great swimmers. 
1) Webbed Feet: Labrador Retrievers and a handful of other dog breeds have webbed feet which help them swim for obvious reasons.
2) Tails: The Labrador Retriever's powerful tail also serves as a propeller in the water. Its back and forth motion helps push them forward.
3) Buoyancy: Just like with humans, muscle is more dense. Therefore, a very muscular dog, like a Pit Bull will have less buoyancy, and may need to work a bit harder to tread water.  Also, breeds who are "top heavy", with big heads and deep chests will have a harder time swimming.
4) Long Legs: Every dog paddle is not equal. Longer legs will help dogs get further with each paddle, so short legged dogs like Rooney, don't have much going for them here.
5) Non-brachycephalic skull: Brachycephalic, or "pushed-face", dogs have a difficult time breathing in general, but this especially becomes true while they are swimming. Think about it…when you swim, what is the most important thing to keep yourself swimming and moving through the water? Your breathing. The same holds true for dogs in this case.
If your dog has many, or all, of the traits listed above, then you may not have concerns about them swimming, or the length of time in which they swim.
Other than being non-brachycephalic, there is nothing on that list that Rooney has going for him, so I and other parents like myself need to be diligent with our pool safety.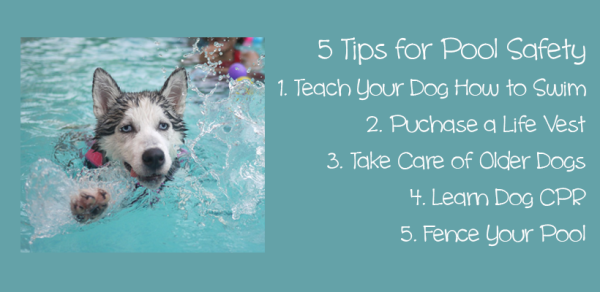 PetMD has the following 5 recommendations for Pet Pool Safety:
1) Teach Your Dog How to Swim: Help your pet become familiar with your pool, or any other pool where they will be spending time. Make sure they know where the stairs are, and have them practice finding all the appropriate pool exits.
2) Purchase a Life Vest: Rooney has one so that he can keep up with his friends at lakes and pool parties. It also helps bring me peace of mind.
3) Take Care of Older Dogs: If your pets are getting up there in age, you will want to make sure they have a clear path to travel in the yard that is far from your pool. If they have seizures or wobbly legs, be sure to keep them away from the pool whenever you can't be there.
4) Learn Dog CPR: At BlogPaws I was able to take a brief session on the basics and importance of pet CPR, and if you are not already trained in CPR, you definitely should be! Speak with your veterinarian to see if they have any recommendations as to local places to become CPR certified. You never want to use it, but you always want to be prepared.
5) Fence Your Pool: One of the safest things you can do for your pet (and your children) is to fence you pool.
Most importantly, if you think your pet will go in the water when you aren't looking, don't leave them unattended by the pool. Unfortunately, I have seen the results of senior and small pets falling in the pool when no one is home, and it was so incredibly heartbreaking.
Therefore, I plead you to take precautions with pool safety this summer!