The League of American Bicyclists dubbed May National Bike Month!
Although we are at the end of the month (and this month has certainly gotten away from me, but its not over), I thought I might use this time to talk about Bike Safety with your pet.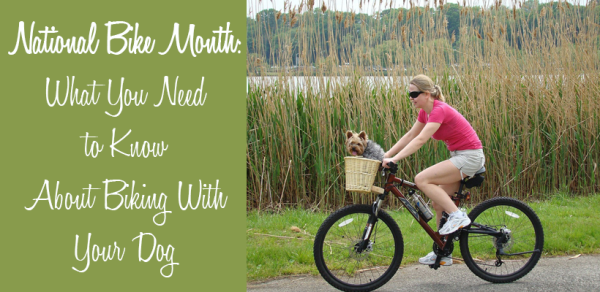 Many people bike with their pet running along side them. While this works really well for some pet owners, it certainly can be disastrous for some.
There are many safety tips you should consider before taking your pet bike riding with you.
PetMD has some great tips for making sure biking with your pet is a positive experience:
Firstly, make sure your pet is ready for exercise: Think of how you would feel if you ran for 3 miles after not exercising for months or even years! The exercise itself would be painful and you would feel out of breath and out of shape. Consider the same conditions for your pet, you may be in shape for this bike ride, but are they?
If not, take the time to get them in shape. This is especially true if they are overweight or obese. They could do extreme damage to their joints and and tendons if they are not prepared for the workout. Which could cost you some serious $$$, not to mention extreme pain and discomfort for your pet. So take the time to prepare your dog for exercise.
Additionally, tell your veterinarian about your plans and make sure your pet doesn't have any underlying conditions before starting such a strenuous exercise regime.
Be Prepared: Make sure you invest in the proper equipment to ensure that you and your pet have the best experience.
PetMD recommends:
1) A non-tangling lead. For bike friendly leashes, I will direct you to The Dog Outdoors website.
Scott, the author of The Dog Outdoors, was even kind enough to make a video to talk about his bike leash recommendations. In the below video he talks about the Walky Dog Plus Bike Leash.
2) A body harness to attach the lead to; attaching the lead to your pet's neck could be dangerous! The Dog Outdoors website mentioned above, also has some recommendations for body harnesses.
3) Reflecting Equipment: be sure to have a reflective, or light-up lead, vest, or collar so that you and your pet are visible to cars. Many light-up collars and leashes will not just light up, but they will flash! This will make sure to keep you and your pet safe. Don't forget about wearing reflective, or light up equipment on yourself!
4) A small first aid kit: Because you can end up far from your home, you want to make sure you address any small injuries your pet can receive while running (like small cuts or blisters). Most importantly, know how to use the items in the first aid kit! I have suggested taking a Pet First Aid Course in some of my previous posts, and I'll suggest it again. This would be a great place to learn about the basics of Pet First Aid, including using a first aid kit. If you have any questions about Pet First Aid Courses or equipment, I will direct you to my friend Lisa Wagner who is the Operations Director at Walks N Wags Pet First Aid, you can visit their website here.
5) An extra lead in case your pet needs to walk around to use the bathroom on your breaks.
6) Water for both you and your pet!
7) (Optional, but recommended) Dog Booties to help protect your dog's feet from the unknown objects on your path.
My number one recommendation is to NOT RUN YOUR PET IN THE HEAT!
As we approach summer time and the temperatures continue to climb, please be aware of the heat when taking your dog for a walk, run, or bike ride. Not only will they burn and blister their paw pads, they could be at risk for heat stroke. So please be cognizant of the weather.
If you are considering starting this activity with your pet soon, I urge you to read the additional recommendations from PetMD, here, which will provide you with more detail.
Do any of you bike with your pet? If so, what are your recommendations?