Not too long ago we did a giveaway for the Rein Coat, (post seen here) and we received some amazing feedback. Therefore, we would like to extend to our readers a chance to win the new Ultra Light Rein Coat!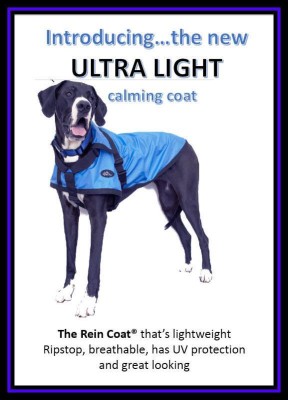 The new Ultra Light Rein Coat is lightweight, breathable and has UV protection! It is perfect for summer time.
If you are unfamiliar with The Rein Coat, this coat uses our pets natural chemical reactions to help calm them during times of high anxiety. Feel free to read more from our post, here, or visit The Rein Coat website here.
You can also watch the below video!
Also, My Kid Has Paws is proud to be an official blogger for The Rein Coat! So please leave any feedback in the comments below, and I will be sure to keep you up to date with Rein Coat products in the future!