Occasionally, people I know will reach out to me to use this blog and public platform to help get the word out about adoptable pets, and of course I am happy to do so. Since the birth of the blog, we have had some success, Sadie and Mia who I posted in October of last year have both been adopted! Additionally, Bella the Basset was adopted and we received updates from her new dad last Christmas!
SADIE
Sadie's Story (courtesy of www.adoptapet.com):

MIA
Mia's Story (courtesy of www.adoptapet.com)

Bella the Basset
I am so happy to have been apart of these adoptions, but there are more who still need our help! Please check them out and share with others!
Sebastian
Sebastian's Story (courtesy of www.adoptapet.com)
"Sebastian is friendly and outgoing with people. He enjoys hiking, hanging around the house and yard, riding in the car, just regular doggy things. He appears not to have been socialized with other dogs as a puppy, and at five years old and 75 pounds, if he is to get along with other dogs he will need a very experienced and dedicated person to train him. He's happy-go-lucky, confident, smart, and very strong. Sebastian needs an experienced adopter and would prefer someone who likes outdoor fun as much as he does!
Sebastian was rescued in November 2012 from the super high-kill Stockton, CA pound. He has been waiting for a forever home a long time. He is a wonderful dog who makes a friend of everyone he meets, but because he belongs to an individual, he hasn't gotten out to adoption events and hasn't been able to meet potential adopters. Central California Pets Alive is not a 501(c)3 but a grassroots shelter reform effort that also helps people place animals they have found or rescued. The application, screening, and adoption process follows best practices employed by rescues, but these animals are at a disadvantage in not having the capacity of a formal organization to promote them. So if you're seeing this, please consider Sebastian. If he's a good fit for you and your home, I'd love to hear from you!"
Zeus (Location: Bay Area)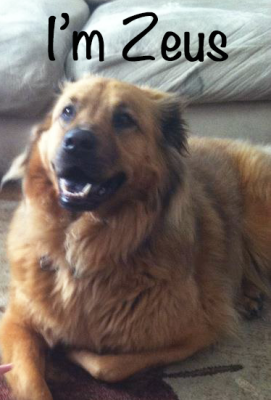 Zeus is up for adoption! He is an amazingly happy 4 year old German Shepherd/Golden Retriever Mix who loves life! He gets along very well with his doggie housemates, both male and female, and a few kids as well! We think he would love a home with older kids who would play with him, since he does need to lose a few pounds, and all he wants is to hang out with his family. He has spent time around outdoor cats, and shows minimal interest, but he hasn't lived indoors with cats.
If you have room in your heart for Zeus, please send me and email at mykidhaspawsblog@gmail.com.
Otherwise, PLEASE share this video and post with your family and friends so that we can get this great guy a new home!
I made this video in hopes that it would show off some of his personality!
Rocky & Patches (Location: Bay Area)
Rocky and Patches will be two years old this Fall (either September/October) and they both are very well mannered gentle kitties would would love to join your family!
Here are some descriptions from their current owner: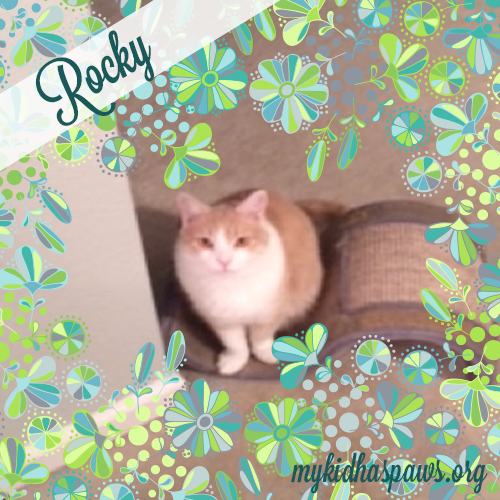 Rocky is a very sweet cat but is shy around strangers.  He loves to play and is very gentle with other cats.  He takes the time to help groom my much older cat.  He is affectionate and likes to be petted and played with.  He does not jump up on kitchen counters.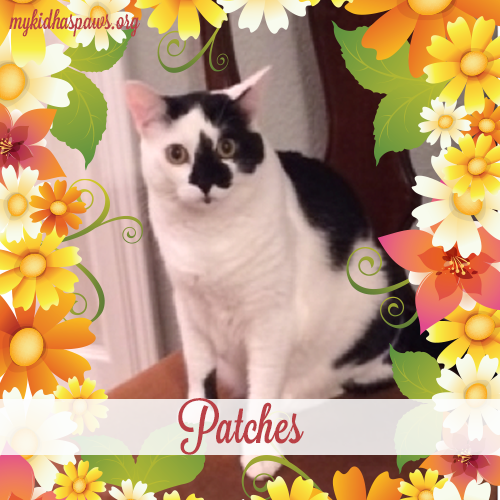 Patches likes attention and is very affectionate.  She is curious and is always guarding the house for any unwanted pests.  She loves to sit and look out of the window.  She gets along very well with other cats.  She loves to be talked to and played with.  She is friendly once she gets to know you and will sit in the same room with strangers although initially cautious if they want to pet her.
Please contact my at mykidhaspawsblog@gmail.com for more information or if you are ready to be their forever home!
Also please Share this link as much as possible 🙂
Have a great day everyone!
and Bentley the Bulldog (Location: Bay Area)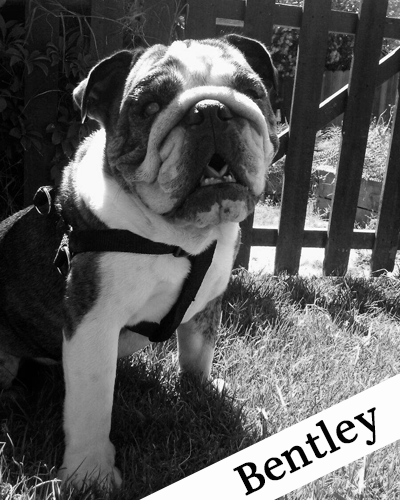 Bentley is a 3 year old neutered AKC registered English Bulldog who needs surgery and a new home. Bentley has severe food and inhaled allergies and a severe dry eye condition, but is the sweetest Bulldog!
His owners were recently informed by an eye care specialist that Bentley needed to have at least one, but maybe both, eyes surgically removed due to painful ulcers. Due to being financially overwhelmed, they brought him on July 8th, 2014 to Sage Emergency Centers in Dublin, California to be euthanized.  When the staff at Sage saw a perfectly happy Bulldog come in for a euthanasia appointment, they froze.
After learning that the couple was financially overwhelmed and couldn't afford to give Bentley his surgery, the nurses at Sage emergency informed them they could relinquish Bentley to the nursing staff who would figure out a foster situation, fundraise for his surgery, and find him a new home. Bentley would not die today, not on their watch.
The couple was soo happy to learn that this was an option. They brought all of Bentley's belongings, including his AKC papers, a large dog crate, and a bag of hypoallergenic food.
Thanks to the nursing staff at Sage, Bentley is being fostered by my good friend Kim (same foster and similar situation as Bella the Basset). Despite a discounted surgery, Bentleys surgery and aftercare will cost approximately $2100, an amount that veterinary technicians cannot afford to spare (I can reassure you this is true).
Therefore, we need to raise money for Bentley, we have set up a fundraising campaign here, at LoveAnimals.org and we would appreciate any donations, or shares!
Also, if you have room in your heart and home for Bentley, please send me an email at mykidhaspawsblog@gmail.com.
Feel free to contact me at mykidhaspawsblog@gmail.com if you or someone you know might be interest in any of these wonderful pets!
My hope is to place an Adopted! picture by every name 🙂