Happy Weekend Everyone!!
In recent weeks I have been contacted by my friends about so many pets that are looking for homes. I have put many other posts on hold to bring awareness to these pets because My Kids Has Paws is dedicated to helping pets around the world above anything else.
That being said, today I introduce you to Bentley.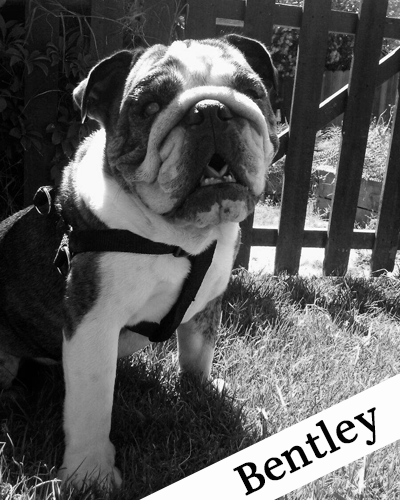 Bentley is a 3 year old neutered AKC registered English Bulldog who needs surgery and a new home. Bentley has severe food and inhaled allergies and a severe dry eye condition, but is the sweetest Bulldog!
His owners were recently informed by an eye care specialist that Bentley needed to have at least one, but maybe both, eyes surgically removed due to painful ulcers. Due to being financially overwhelmed, they brought him on July 8th, 2014 to Sage Emergency Centers in Dublin, California to be euthanized.  When the staff at Sage saw a perfectly happy Bulldog come in for a euthanasia appointment, they froze.
After learning that the couple was financially overwhelmed and couldn't afford to give Bentley his surgery, the nurses at Sage emergency informed them they could relinquish Bentley to the nursing staff who would figure out a foster situation, fundraise for his surgery, and find him a new home. Bentley would not die today, not on their watch.
The couple was soo happy to learn that this was an option. They brought all of Bentley's belongings, including his AKC papers, a large dog crate, and a bag of hypoallergenic food.
Thanks to the nursing staff at Sage, Bentley is being fostered by my good friend Kim (same foster and similar situation as Bella the Basset). Despite a discounted surgery, Bentleys surgery and aftercare will cost approximately $2100, an amount that veterinary technicians cannot afford to spare (I can reassure you this is true).
Therefore, we need to raise money for Bentley, we have set up a fundraising campaign here, at LoveAnimals.org and we would appreciate any donations, or shares!
Also, if you have room in your heart and home for Bentley, please send me an email at mykidhaspawsblog@gmail.com.
Thank you all for reading and loving animals as much as we do!