Have you heard of The Honest Kitchen yet?
I had the honor of meeting Kate, their marketing manager, at the BlogPaws conference I attended back in May.
The Honest Kitchen is a dog food company that is hoping to change the way pet parents feed their pets healthy and fresh food. Lucy, the founder of The Honest Kitchen, decided in 2002 that there had to be an easier way to prepare the fresh food diet that she was feeding to her dog Mosi. It soon dawned on Lucy that the answer to creating a shelf-stable fresh ingredient dog food was dehydration. The food has all of the moisture removed in order to make it easy to prepare, and store. Water is added to food when you are prepared to feed your pet. The very first batch of food created in 2002 was called Verve, and it very quickly became a product of high demand.
In 2003 Lucy noticed that people wanted something like Verve, but without the grains, that is when Force was created. Since then, many other recipes have been created and The Honest Kitchen has seen tremendous growth.
Rooney and I were able to test out the Force product and he loves it!
He actually loved it so much that I he was refusing his regular food for a few days and he had to be coaxed to eat, which never happens with a Corgi.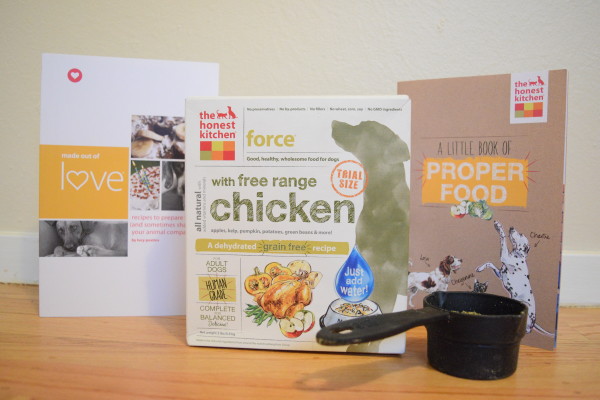 How do I know if The Honest Kitchen is for me and my dogs?
Well, there are lots of different schools of thought when it comes to dog food, many veterinarians even subscribe to varying styles of dog food, so it is always difficult to say that one dog food is the best dog food for you dog.
However, I can say that The Honest Kitchen is a great company that makes amazing and healthy dog food, in addition to:
an FDA approved Human Grade Diet
Two 2014 Family Choice Awards for their food
Both dog and cat food
Diets that are specific to age group and activity level
If you would like to try The Honest Kitchen Dog Food, please enter our giveaway!
For more information about The Honest Kitchen, please check out their website, here.