Welcome to Medical Monday #3!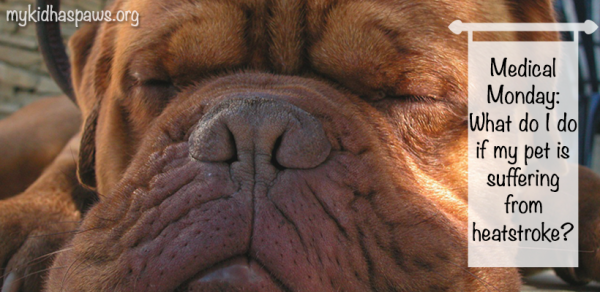 Today I want to talk about something that pet parents may be actively dealing with….heatstroke.
As the temperatures here in Northern California are reaching over 100 degrees any minute, my mind is always concerned with how comfortable Rooney is at home, since we have no air conditioning. I am always sure to leave the blinds closed, shades drawn, circulating fan in the room, and fresh water for him, but despite our best efforts to keep ourselves and our pets cool in the summer, it is best to know what WHAT causes heatstroke AND what you can do if your pet is already over heated.
Many pet owners are unaware that dog's body temperatures are already higher than ours. A normal body temperature for a dog ranges from 100-102.5 degrees fahrenheit. Therefore, a dog can overheat much faster than we can if left in poor environmental conditions.
PetMD sources the main causes of heat exhaustion as leaving a dog in a hot car or not providing them shade when left outdoors.
Dogs will attempt to cool their body temperature primarily through panting. When panting won't allow their body to cool, their body temperature will start to rise, and can lead to hyperthermia or heat exhaustion (PetMD).
What can I do for my pet if I believe they are suffering from heatstroke?
According to PetMD, the first thing you should do is remove your dog from the hot environment IMMEDIATELY. If you pet is unconscious, make sure water does not get in their nose or mouth while following the below steps.
1. Put your dog in the bath tub.
2. Run cool, NOT COLD, shower water over your pet, covering the whole body especially the back of the head and neck.
3. Allow the water to fill up the bathtub, but keep their head elevated (nose and mouth out of the water) to prevent getting water in the lungs, which can cause aspiration pneumonia.
4. If you can't get your dog in the bathtub, use a garden hose to cool the dog or place them in a shallow pool of cool water.
5. Apply a cold pack to the dog's head to help lower his body temperature, packs of frozen vegetables works!
6. Massage the legs. Rubbing vigorously helps the dog's circulation and reduces the risk of shock.
7. Let your dog drink as much cool or cold water as it wants. Adding a pinch of salt to the water will help the dog replace minerals it has lost through panting.
Lastly, SEEK VETERINARY ATTENTION, heatstroke can cause many unseen problems, such as swelling of the brain or kidney failure, so even if your dog's temperature starts to decrease, be sure to have them looked at by your veterinarian. Make sure to keep your dog cool on the way to the veterinarian.
Are certain dogs predisposed to heatstroke?
Yes! Dog's with thick fur, short noses, laryngeal paralysis, or obesity are predisposed to heatstroke. Additionally, dogs who enjoy work and playtime, should be monitored for signs of overheating on hot days.
Stay cool everyone!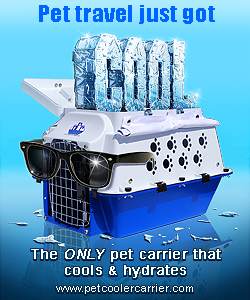 Has your pet ever suffered from heatstroke? What did you do?
 I have received some great feedback from readers about our new Medical Monday posts, and I encourage everyone to continue to leave comments and let me know what you think.