Many pet parents know that chocolate is poisonous to their pet, but they don't always realize that grapes and raisins are too!
Small amounts of these seemingly harmless household items can be fatally toxic to dogs. 
The crazy thing is, it is not generally known why grapes and raisins cause problems for dogs. I remember learning is school that it had something to do with the tannins in the grapes binding to certain minerals in the body and that causes issues, however I couldn't find research online to support this, and its possible my memory is blurred. 
What should I watch out for (PetMD)?
Abdominal Pain
Dehydration
Lethargy
Vomiting
Diarrhea
Lack of Urine Production: this is a sign of sudden kidney failure
If I know my dog ate grapes or raisins, what should I do?
This is an emergency and requires immediate attention. Call your veterinarian, emergency clinic, or the Pet Poison Helpline at 1-855-213-6680 immediately.
One thing all pet parents should have in their house is hydrogen peroxide, and know how much you should give your dog to induce vomiting. However, ALWAYS speak with a veterinarian or Pet Poison Helpline before giving your pet hydrogen peroxide. Even if your pet vomits after eating something toxic, you should always take them to your vet for further treatment and care.
Rachel, you worked as a veterinary technician, what did you hospital do when a pet ate something toxic?
Initially, we made them vomit using an injection of apomorphine, which will cause them to start vomiting within 30 seconds to one minute. Then, we feed them activated charcoal which helps prevent the absorption of toxins. Depending what they ate, when they ate it, and how much, we would run blood work and urine, and keep them hospitalized with IV fluids.
How do I prevent my pet from eating something toxic?
Firstly, know what common household items are toxic and keep them out of reach of your pets. Also make sure all of your family members know as well!
Pet Poison Helpline has a list of poisons, here.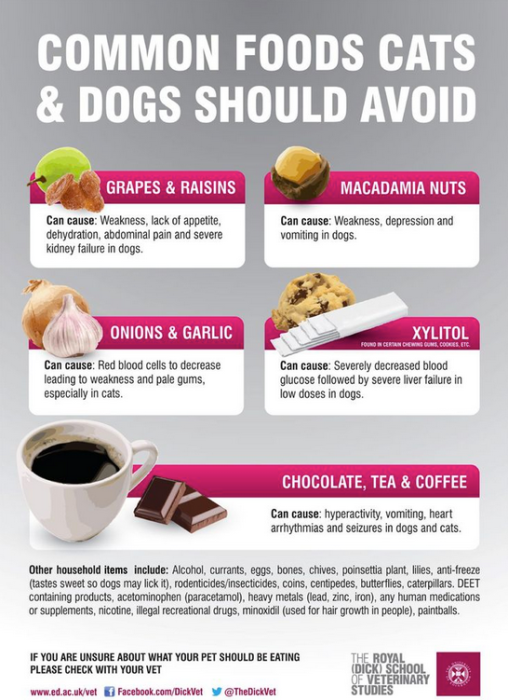 Have you ever had your pet eat something toxic? What did you do? How did your veterinarian proceed?