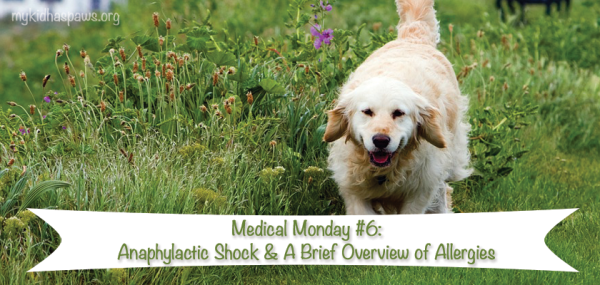 Welcome to another edition of Medical Mondays.
Today, I want to talk about Anaphylactic Shock.
Firstly, what is an anaphylactic reaction?
An anaphylactic reaction is an immediate allergic reaction to an injection, an insect sting, or food (Merck/Merial).
Why does a pet produce such a strong reaction to a food, an injection, or an insect sting?
The animal has been previously been exposed to an antigen and produces an excess of antibodies. According to Merck/Merial, if and when the antigen appears in the blood, your pet will experience anaphylactic shock or a localized reaction.
How fast does anaphylaxis occur?
It can occur within seconds to minutes after exposure to the antigen (Merek/Merial).
What are signs of anaphylactic shock?
Typically, in humans and other species, the major organ affected by anaphylactic shock is the lungs, but dogs are different, the major organ affecting their bodies is the liver (Merck/Merial). Due to the liver being the main organ (not the only) affected by the anaphylactic shock, dogs experience gastrointestinal signs in addition to difficulty breathing:
sudden onset of diarrhea
excessive drooling
vomiting
shock
seizures
coma
death
cold limbs
pale gums
fast heart rate
difficulty breathing
How serious is anaphylactic shock?
Anaphylactic shock is an EXTREME EMERGENCY, if your pet is experiencing signs of anaphylactic shock, it is imperative that you seek veterinary attention immediately (Merck/Merial)!
What other types of anaphylactic reactions might my pet experience?
This is a VERY brief overview of other types of allergies.
Hives & Swelling: these may occur as a reaction to drugs, chemicals, the consumption of something, insect bites, or sunlight. This reaction usually occurs within 20 minutes. Often times, hives are accompanied by swelling on the face or muzzle (Merck/Merial).
Allergic Rhinitis (Nasal Allergies): caused by seasonal allergies, your pet may experience watery nasal discharge and sneezing. Usually, this is diagnosed if the veterinarian treats with antihistamines and the following reaction is favorable (Merck/Merial).
Chronic Allergic Bronchitis: Determined by a dry hacking cough that is brought about by physical activity (Rooney has this) (Merck/Merial).
PIE Syndrome (Pulmonary Infiltration with Eosinophilia): The lungs become filled with think fluid and white blood cells and the pet becomes lethargic and has difficulty breathing. The symptoms can be controlled with medication (Merck/Merial).
Food Allergies: Typically, this can lead to vomiting which occurs within 1 or 2 hours of eating, diarrhea, soft stool, or poor coat condition. Treatment of food allergies includes a plan developed alongside your veterinarian to try to eliminate symptoms and improve conditions (Merck/Merial).
Skin Allergies (Atopy): Your pet's skin overreacts to an allergen in the environment, the affected areas will be very red and itchy. It is estimated that 10% of dogs suffer from atopy (Rooney has this too) (Merck/Merial).
Allergies are a major issue for pets in the Bay Area, does your pet experience any allergy symptoms? Has your pet every experienced anaphylactic shock?
Don't forget that you can protect your pet by signing up for pet insurance, get your free quote by clicking the link below. Trupanion save us about $600 on Rooney's recent back injury!