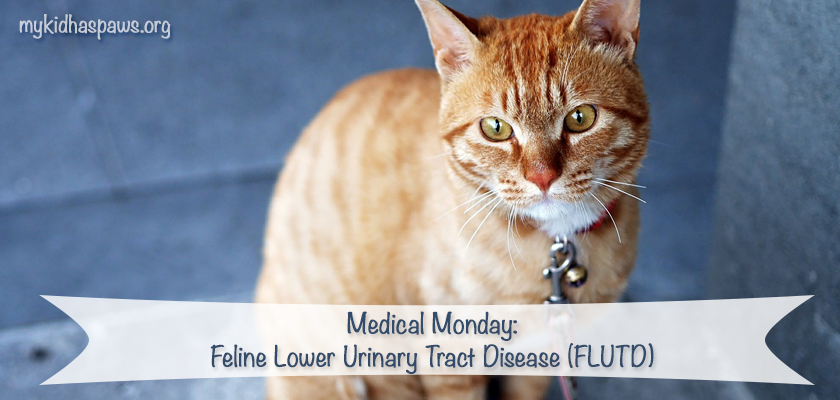 Welcome to another edition of Medical Monday where we discuss veterinary medical issues experienced by pets and their families.
Feline Lower Urinary Tract Disease (FLUTD), is a serious and fairly common problem in veterinary medicine. I definitely saw a few cases of FLUTD in my years in vet med.
According to an article written by Gregory F. Grauer, DVM, in Today's Veterinary Practice, FLUTD describes a collection of conditions that affect both the bladder and the urethra in cats.
FLUTD is the cause of 7-8% of feline admissions to the hospital. Two-thirds of cats with FLUTD have FIC (TVP).
FIC = Feline Idiopathic Cystitis
Idiopathic: means the cause is unknown
Cystitis: means inflammation of the bladder
Therefore, FIC is when your cat is experiencing symptoms of FLUTD but the cause is unknown. "FIC is associated with complex interactions among the nervous system, adrenal glands, and urinary bladder" (TVP).
When it comes to FIC, it can be associated with other clinical signs related to gastrointestinal, cardiovascular, nervous, or respiratory problems. The feline's environment also plays a role in some cases related to FIC.
What are some possible stressors that can cause FIC?
Frequent Boarding
Frequent Traveling
A New Pet or Baby
A Multi-cat household: especially one with intercat aggression
What are the symptoms of FLUTD?
According to PetMD:
Frequent urination, resulting in little or no urine
Bloody, or slightly red urine
Crying out in pain, especially in the litter box
Progressive lethargy (or lack of energy)
What can I expect when I take my cat to the vet?
Based on the common symptoms, the main concern your vet will have is whether or not your pet is blocked (especially if they are male), so they will initially palpate and potentially try to express the bladder (TVP).
FIC is associated with a small and easily expressed bladder (TVP).
After your vet has palpated the bladder, they may want to get some additional diagnostics to rule out causes of FLUTD. Urinalysis, Urine Culture, X-Rays and maybe an Ultrasound will help your veterinarian determine the cause of FLUTD, or diagnosis of FIC.
What is the treatment?
Regardless of the specific medication your veterinarian chooses, treatment of FIC has two main objectives:
Reduce Stress
Provide Pain Relief
Have you ever experienced FLUTD or FIC with your cat?
To protect yourself and your pet please consider pet insurance. I myself carry pet insurance for Rooney and would be happy to answer any questions at any time.