Welcome to another edition of Medical Monday where we discuss veterinary medical issues experienced by pets and their families.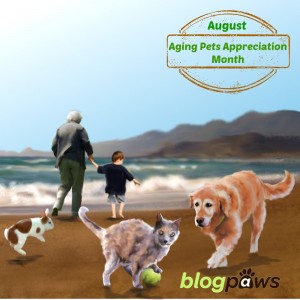 August is Aging Pets Appreciation Month, and in honor of that, I would like to talk about arthritis.
Dr. Lorie Huston, DVM who writes for PetMD highlights 7 signs of arthritis in her PetMD article seen here.
1. Limping: you may notice that your pet has started limping, especially right after they stand up.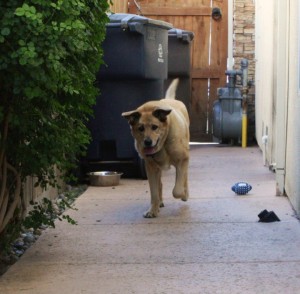 2. Difficulty Moving: Your pet may stop doing certain movements that were previously easy for them. For example, they may have trouble with stairs, or they might not want to get in or out of the car anymore.
3. Spinal Issues: Arthritis in the spine can cause issues with both of the hind legs, or even pain in their neck. Occasionally, pets might need their bowls raised off the ground in their senior years, due to arthritis in the neck.
4. Tiredness: Your pet may require more sleep, or tire more easily on walks.
5. Irritability: Have you ever noticed that some senior animals like being pet on their head, but sometimes get grumpy if you pet them along their back? This may be a sign of arthritis especially in their spine or their hips.
6. Muscle Atrophy: Once arthritis starts to take place, the muscles in those areas may start to deteriorate due to inactivity or decreased use.
7. Licking, Chewing or Biting: Often, pets will lick, chew or bite areas that are causing them pain or discomfort. You may notice hair loss or inflamed skin in those areas.
Merck/Merial also indicates excessive warmth or swelling of the joint to be a symptom of arthritis.
What areas are typically affected by arthritis?
Wrists
Ankles
Toes
Spine
Hips
Knees
What should I do if I think my pet is suffering from arthritis?
Consult your veterinarian. Although arthritis can't be cured, there are several treatments available, including NSAIDS (Non-steroidal anti-inflammatories drugs), that can help your pet feel better, and continue to get the movement their joints need.
Can I make any small adjustments to make my dog more comfortable?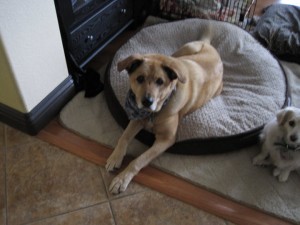 When our Lab/German Shepherd Mix Rocky became arthritic, we made a few adjustments in our house to make him more comfortable.
1) We went out and got thicker dog beds that were made of memory foam material to make sure his joints were supported while he slept.
2) We placed carpets on top of the hardwood floors and tiles to give him more stability while navigating through the house.
3) We started giving him veterinary prescribed pain medication to help with his arthritis and spinal compression.
4) In his last few months we got him a wheelchair that helped support his hind end so that he could still take his daily walk to the park.
Things I wish we did sooner:
1) I wish that we had started him on joint supplements before he developed arthritis. Rooney is currently receiving a daily Vivamune supplement as a result.
2) I wished we had thought to raise his bowls. I didn't have as much education back then, and I wished we had thought of everything to make him more comfortable.
3) In the winter, it would have been nice to have a heated bed that would help keep his joints and muscles warm, making it easier for him to get up after sleeping.
Have you made adjustments for your senior pet's arthritis?