Hi Everyone! Happy Friday!
Today Suzy, The Dog Training Lady, our resident pet trainer is sharing with us some tips on How to Prepare Your Pets for Back to School. Enjoy!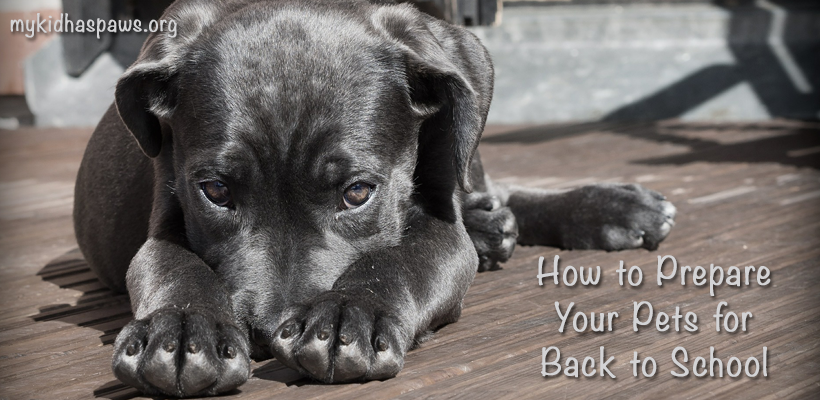 Well it's that time of year again.  After a long playful summer with the kids and the dog, it's now time for the schedules to change.  Early to bed for the kids, back to carpooling for parents, then homework, afterschool activities, and the potential for a dog developing some unwanted behavioral issues.
 In September, as your children head back to school, did you think about the fact that your dog also has to adjust to the modifications in the household like everybody else?  This modification in regimen can trigger your canine to suffer from separation stress, and anxiety, or depression, to really miss your children, and even follow them to school.
 Be sure to pay attention to your animals when it's time for the children to head back to school.  They get use to their human buddies investing so much time with them; it can be a shock when your pet has to return to spending more time alone.  In severe cases, animals can struggle with separation stress and anxiety, display behavioral troubles, cause damage to your house or themselves.
 Canines and felines that take pleasure in human communication, and love, can end up becoming mentally unglued, particularly if their favorite human friend in the home happens to be one of your children.  It certainly leaves a gap in the animal's way of life.  When children return to school, and unexpectedly their lives are so loaded with activities that they don't have the same quantity of time for play with the household pets.
 When it comes to pets, if you were to set up a video camera, watch the animal's behavior.  If your pet is feeling the loss of a their best friend, when left entirely alone in the home, even for a brief spell, they will promptly begin pacing up and down and start barking or whining.  Some dogs will certainly even try to leave by scratching the back of a door, or start tearing up the blinds.  Other extremely evident signs and symptoms that influences both felines and canine is loss of appetite and in some cases they may stop eating altogether.
 First of all, if your dog is crate trained, it is a good idea to get him back into a regular habit of being in his crate for the extended period of times, now that the schedule is changing.  To explain proper crate training for your dog right now would turn this post into a book.  So we will have to save that for a later date.
 So how do we avoid these problems?  Let's try the proactive approach, along with some added activities once everyone is back to their new schedule.
 Let's start in advance of the kids going back to school or leaving for college.
 Dog's are really smart creatures, and we are creatures of habit.  Our pets pick up on this fact.  You pick up your car keys the dog knows your getting ready to leave.  Change that up, pick up your keys, and make dinner instead.  Whatever it is that you usually do out of habit, do the opposite.  You put on your shoes and walk out the door, instead, put your shoes on and walk to the laundry room.  Change things up, most of us don't realize how much we are creatures of habit, most of us do things in a certain way because it helps us not to forget things.  I know that's how I am, and why I do things in a particular order.
 We have a few more weeks before the kids go back to school.  Start to leave for short amounts of time; this will help your dog get use to you being alone.  Slowly increase the amount of time away from the home.  A dogs sense of time is much different then ours.  Consider the fact that if one human year is seven dog years, break that into hours or even minutes, you get the picture.  So just imagine what it feels like to them when we are gone all day, that's like an eternity.
 By changing up a couple things in advance, this will get you a head start.
 One thing to always keep in mind, is NEVER make a big deal out of leaving, and don't let your kids do this either.  You know what I mean, the big goodbye, the hugs, the see you soon big petting, don't do that – simply walk out the door.  No dramatic exits please.  You'll really get you pet's anxiety going if you do this.
 Things you can do when the time comes and the school year begins.
 I know you probably don't want to hear this, but you need to get up a little earlier and either take your pet for an extra long walk, or use the extra time for a walk and some play.  Tire him or her out and they will be more likely to sleep a little longer instead of chewing up your furniture or getting into the garbage.
 Just because these behaviors were previously not an issue with your dog, does not mean that it won't happen now.  When all of a sudden the routine has changed so can your pets behavior.  I'm not saying it will happen, but why take the chance.  The last thing you want to have to deal with is coming home to a disaster when you need to run the kids to their afterschool activities.  What happens here is a pet that now knows your mad at him and your leaving him alone again.  He is not going to understand this, and this could just exacerbate the issue.  So do what it takes to keep these things from happening.
 When everyone is gone from the home, leave the television on the animal channel.  This will create visual as well as audio stimulation.  I believe I mentioned in an earlier post, they do have DVD for pets that can run continuously throughout the day to help them feel, well, not so alone.
 Make sure you leave safe toys for them to chew on and play with.  When you do have time to play, use these specific toys to play, this way your dog is more likely to go for these toys, as he will have the memory of playing with them and you.
 If you have it in your budget a doggie daycare is awesome.  You know they are playing with other dogs and socializing.  They are getting exercise, and they are under supervision.  Just be sure to get referrals and ask questions.  Make sure they are licensed and their staff is adequate.
 To sum things up; be proactive while you still have time, by changing up your routines.  If your dog is crate trained, start working that into the schedule sooner rather than later.  If you can, video the times you're gone to see if he is showing signs of anxiety.  Start making short trips away from home, in order to leave you dog alone, and begin increasing the length of time you are away.
 When school begins, tire your fur-baby out so he or she will sleep for a while.  Be sure to leave toys that he can play with and chew on.  Leave the TV on a channel that will provide visual and audio stimulation for your pet.  You can also purchase a Pet-sitter DVD.  If your budget allows, look into a reputable doggie daycare.
 Here is hoping you have a great school year.
 Most of all, when the weekend comes, be sure to spend a little extra time with your furry friend – he really missed you all week.
Pawsatively Yours,
Suzanne Dean, ABCDT
I want to once again thank Suzy for sharing such valuable information with us.
Do you see yourself having this issue around back to school time?