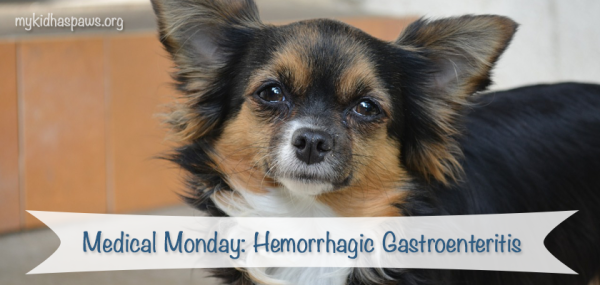 Welcome to another edition of Medical Monday where we discuss veterinary medical issues experienced by pets and their families.
Hemorrhagic Gastroenteritis can be identified by blood in the stool and/or vomit of a your pet (PetMD).
This is a severe disorder and can be fatal to your pet, so if you notice blood in the stool or vomit of your pet you should seek veterinary care IMMEDIATELY.
What other symptoms can be observed with HGE?
According to PetMD:
Lethargy
Listlessness
Weight loss
Electrolyte imbalance
Dehydration
Hypovolemic Shock (when a pet goes into shock because their blood or fluid levels drop suddenly)
What causes such a sudden and severe condition in pets?
According to PetMD, HGE can be caused by a variety of different pathogens:
Bacteria (Salmonella, E.Coli): This can be caused by an infectious food perhaps. Additionally, this type of infection can affect all family members because these types of bacteria can be passed to humans. (Side note: I had a severe bacterial gastro infection when I was a kid and I lost 25 lbs in 2 weeks as an 8 year old, so I can attest to these infections being very serious)
Virus (Parvovirus, Canine Distemper): Although these two diseases are part of your puppies vaccine protocol, if you think that your pet is at risk for either of these diseases, you need to get to the vet immediately! Many shelter pets are exposed to Parvo and Distemper, and unfortunately, many don't survive because this disease is so fast moving.
Fungi (Aspergillus, Penicillium, Fusarium): Aspergillus is known for being an opportunistic fungus, that will often cause an infection when the pet's immune system is already weak (PetMD).
Parasites (Roundworms, Hookworms, Tapeworms, Whipworms, or Coccidia): Your pet can be exposed to these parasites in a number of different situations. Occasionally, you monthly flea and heartworm preventatives also include a dewormer, which can help you protect your pet against parasites. Rooney's stool samples have been positive for parasites after we visit some public parks that have a lot of mud or stagnant water, but he hasn't had HGE.
If my veterinarian suspects HGE what is the common protocol for treatment?
After diagnostics have been performed, your pet may need the following treatments:
Fluid and Electrolyte therapy (IV Fluids)
Antibiotic therapy
Medications that sooth the intestine and provide supportive therapy.
When you bring them home, you will need to give them a bland diet for several days, before returning to their regular diet.
Some veterinarians have suggested using probiotics to help prevent the incidence of such diseases.
I have seen many patients suffer from HGE and many survive and feel much better with the use of the above treatments. The most important thing a pet owner could know is that you need to seek veterinary attention immediately.
Has your pet ever had HGE? What was the cause and course of treatment?
Don't forget that you can protect your pet with pet insurance to avoid the financial surprises that come along with owning a pet. Click below to get yourself a free quote from Trupanion.