Welcome to another edition of Feel Good Friday where we kick off the weekend with some happy news and stories!
Today I am here to tell you about the book titled "Don't Judge a Book by its Cover" written by my friend and fellow WPIN member Denise Fleck.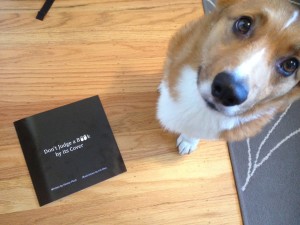 When I met Denise back in August, we started chatting about what we both do, and I was immediately blown away by all of the amazing work that Denise does for animals.
Denise is an amazing Pet First Aid Instructor, Award Winning Author, and Youth Program Coordinator, who had the brilliant idea that if you teach teens and kids about animals rescue, the information might flow from the children to their parents, so that we can create a better world for animals.
Denise currently runs a program through her local shelter that shows high school students what its like to work at the animal shelter.
These impressionable teens learn about:
the need for more homes for animals
black dog discrimination
older dog discrimination
and breed discrimination
These are exactly the same themes that Denise focuses on in her book "Don't Judge a Book by its Cover".
In the book a little girl, Mary-Alice, asks her parents for a puppy, and she has her eyes set on the beautiful little white puppy for sale at the pet store.
Her parents remind her that there are plenty of dogs in the shelter who need homes. Mary-Alice isn't too fond of the environment in the shelter and tells her parents that all the dogs look dirty. The shelter attendant reminds her that all they need is a bath.
Her parents try to get her to understand that a puppy requires potty training, while an adult dog is already trained to go potty outside.
When her dad sets his eyes on a 5 year old Black Lab named Rico, the shelter attendant is ecstatic and explains how black dogs tend to get discriminated against in shelters.
Mary-Alice says: well if we don't like him, can we bring him back?
Her dad explains that animals are family members, not clothes that you buy and then return.
When they got home, Mary-Alice gave Rico a bath, and he was such a gentleman she decided that he should be called Mr.Rico.
Very soon, the two became best friends and Mary-Alice learns a lesson that she keeps throughout her life…don't judge a book by its cover.
This was an excellent book and a great feel good story! One that I think transcends generations and teaches even adults about Black Dog Syndrome, Breed Discrimination, and Older Dog Discrimination. Although Mary-Alice is a kid when she learns these lessons, I know many adults could benefit from the themes in this book!
To purchase this amazing book for someone you know, please click here.