I was so lucky to get to meet the owners/founders of Finding Rover at BlogPaws Conference back in May, and I truly love what they are doing with their company.
Finding Rover is a profit for a purpose company which uses their facial recognition technology to reunite lost pets with their parents. The San Diego County Animal Services is the first shelter to use Finding Rover to help connect lost pets with their families.
How Does it Work?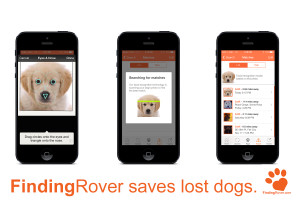 When you register your dog on Finding Rover's site (or app), your dog is automatically placed in the system.
If your dog every gets away from you, you can use the app to say that your dog is lost, and lost posters will be sent to every Finding Rover member within 10 miles!
This service is completely free and allows every pet owner another tool to bring their loved ones home.
When you sign your pet up on their site, you really see how detailed the process of creating an ID for your pet is, which to me says their facial recognition technology is really advanced.
Here are some screenshots taken while I was signing Rooney up for their site.
How are local shelters involved?
Shelters who use the app can help their community more easily locate their pet. As soon as your dog goes missing, you can check every shelter in the area to see if your pet has been taken there.
If your shelter doesn't yet use Finding Rover, you can bring your community together to add this tool to the local community.
More good news?
The technology within the app and site matches lost and found dog posters together! Brining your pet home to your much faster!
This is what the company is all about:
"Why is Finding Rover free? Finding Rover is free because we care about dogs getting off the streets, out of shelters, and safe at home. Because Finding Rover is free, it allows everyone with a smartphone to take a picture and save a life. Finding Rover is currently privately funded. Down the road, the company will be open to monetization and sponsorship. Finding Rover will always be free to the public, shelters, rescues, veterinarians, and dog-centric groups. The more people using Finding Rover, the more dogs can be saved. "
Do you think your community could benefit from using Finding Rover?