Hi Everyone!
Halloween can be a very fun holiday, but some of it's traditions can be scary for your pet.
Today Suzy, The Dog Training Lady, our resident pet trainer is sharing with us some tips on How to Keep Your Pet Happy and Safe this Halloween. Enjoy!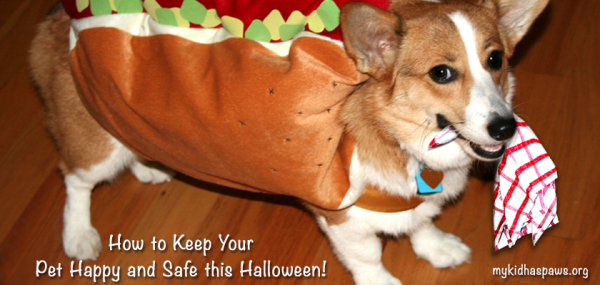 It's that time of year again, boy does time fly. It's hard to believe that fall is here, and Halloween is just around the corner.
Many pet parents enjoy dressing up their dogs, as well as their children for this spooky holiday.
There are a few things you need to consider when it comes to Halloween, and your dog.
First, let's start with Doggy Costumes:
Dressing Doggies Up For Halloween
If you have never owned a pet, the idea of dressing them up in Halloween attire will definitely appears a little silly.
It's not like Fido is going to go around asking for candy? To some folks, it might look like a childlike obsession to dress the household pet up like you would a person; to others this is just an additional way that the big businesses of America get a few added bucks from their patrons. For others, however, there is a specific attraction to have their dogs dressed up for the holiday festivities.
If you decide you are in the latter, lets look at a few safety issues you need to consider for your dog, before you put that costume on them.
Select a safe costume
There is a variety of Halloween attire for canines. For fun think about one that coordinates with your child's costume. Avoid any kind of costume with long hems that might cause your pet to trip while walking. You will also want to ensure that putting on the outfit will certainly not interfere with attaching the leash. Also watch for any small items on the costume that your dog could chew off and ingest.
If your dog is allergic to any types of fabric, take that into consideration when selecting the costume.
A couple of dry runs perusing the neighborhood with the outfit on might be called for to assure your pet gets used to wearing it, this will also give you the chance to see if there will be any issues. It is much better to try this during the daylight hours, than to run into problems in the dark with the streets full of kids, and parents. Costume malfunctions can cause your dog to have possible behavior issues, due to the costume aggravating him or her in some way.
If your youngster is going to be the one walking the pet, make sure that they are able to control the situation.
Also consider your dog's character– extremely aggressive or very fearful canines are not going to enjoy going out with all of the ruckus going on.
Selecting a doggy Halloween costume could add much more fun to the holiday, by permitting the family dog to join in the fun.
Secondly,
If you are not fortunate enough to live in a warm weather state, such as I do. The constant doorbell ringing, and opening the door, may cause you a problem, and that is your dog bolting out the door.
I am fortunate; our neighbors and I sit at the end of our driveways and greet the trick-a- treater's, to hand out candy.
But for those of you that need to stay indoors due to the colder weather. You will have to deal with some of your dog's behavior issues.
Now if you have a nervous dog, this night of horrors, may be of horror to him or her, and your best option is to place them in their crate with some of their favorite toys.
There are two other options (well besides turning your light out – which unless you want your house egged, I don't recommend), make sure you have your dogs leash by the front door, and DO NOT open that door unless his leash is on. You want to be sure you have control over your pooch.
Seeing these ghoulish figures at their door, you may not be sure how they will act, especially if this is their 1st Halloween.
Not only can you have a door bolter, but a potential biter. Heck some of today's costumes scare the daylights out of me.
As I had mentioned in a previous post, you can also have the motion sensors that blast a burst of air should your dog cross the perimeter, but with all that is going on, unless you have used this before, Halloween is not the time to experiment with this for the first time. This needs to be a tried and tested method with your dog.
My best suggestion, if your dog is not the nervous type is to add an additional perimeter to your entranceway.
A Heavy-duty pet playpen that can be configured into different shapes will help to cordon off your entranceway. Amazon has one see below: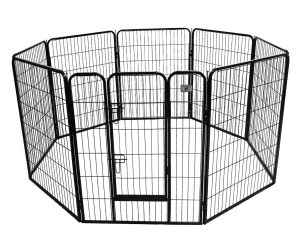 It has a door you can open and step through and keep your dog on the other side while you are greeting the trick or treat children.
Be sure that this is secured in such a way that if your dog should jump on it – it will not collapse. The one shown is high enough to prevent jumpers, (unless you have an unusually extra large dog).
Now, these are all great suggestions, but nothing beats a well-trained dog. One that is guaranteed to sit and stay no matter what, but even well trained dog's have their moments especially when zombies come a knockin'.
Now, more than likely, if you are sitting at home to greet the ghouls and goblins you will be sitting in a chair that is fairly close to the door. So if you don't have a playpen or can't afford one, take you pups favorite blankie or mat, and place it next to the chair, put on his or her leash and place the loop handle of the leash under the chair leg. That way, when you get up to answer he door, your pooch has a limit as to how far he or she can get. A regular six-foot leash should be sufficient for this situation.
So I have given you several solutions to handle door bolting, one of them should work for you. Now even if you have a very friendly dog and have him on a leash, are you sure how he or she will react to the costumed kids? If your not sure, don't allow your pet to greet the kids at the door. Kids in general, immediately put their hand out "Oh, your dog is so cute", and they may come back with a stub if they scare the heck out of your dog. Not all kids have what I call "dog etiquette" where they ask before they touch.
While training is the best method, this will not be accomplished in one week, so take precautions, whichever one works best for your situation.
Third, and most importantly, THE CHOCOLATE
When the kids get back with their bags full of goodies, don't let them leave them anywhere that your pet can get their teeth on it.
Video courtesy of PetMD, here.
According to Pet MD, depending on the size of your dog and the amount of chocolate ingested can, and will make a difference. Above I have posted a link to a video by Dr. Jodie Gruenstern, DVM. She talks about levels of toxicity and what signs you should look for.
There are different types of chocolate, and each has a different level of toxicity, some more severe than others.
If your dog should get into chocolate keep a close eye on him or her, and watch for any of the following symptoms:
Vomiting
Diarrhea
Increased body temperature
Increased reflex responses
Muscle rigidity
Rapid breathing
Increased heart rate
Low blood pressure
Seizures
Advanced signs (cardiac failure, weakness, and coma)
Your vet will perform a complete exam, but it will be helpful if you can tell them the kind of chocolate, and the amount consumed, if you have this information it can be extremely helpful in the treatment of your pet.
As you know the best way to avoid this is keep the chocolate out of reach. As we all know accidents do happen so be prepared. Most likely this will occur during the evening hours when your regular vet is not available, so be sure to have the emergency vet number handy.
In Summary
Be cautious in selecting your pets costume, watch for tiny items that can be chewed off, and ingested, and also anything that could cause you pet to trip, or materials he may be allergic to. Also make sure the costume allows for a leash to be attached.
If you will be at home, know how your dog will react to scary visitors, and use the best method that will help keep your dog calm and relaxed.
Most importantly, keep the chocolate up, and away from your dog. Chocolate can be very dangerous if not deadly.
Let's all have a safe and happy Halloween for you, your family, and your pet.
Until next time
Pawsitively Yours,
Suzanne Dean, ABCDT