Welcome to another edition of Medical Monday where we discuss veterinary medical issues experienced by pets and their families.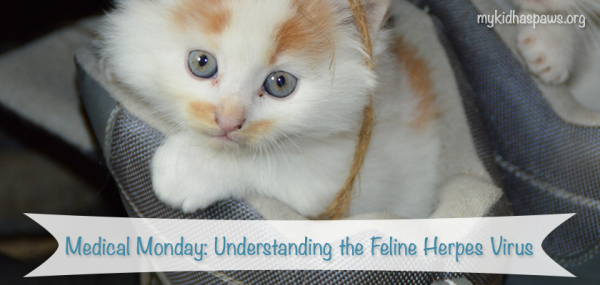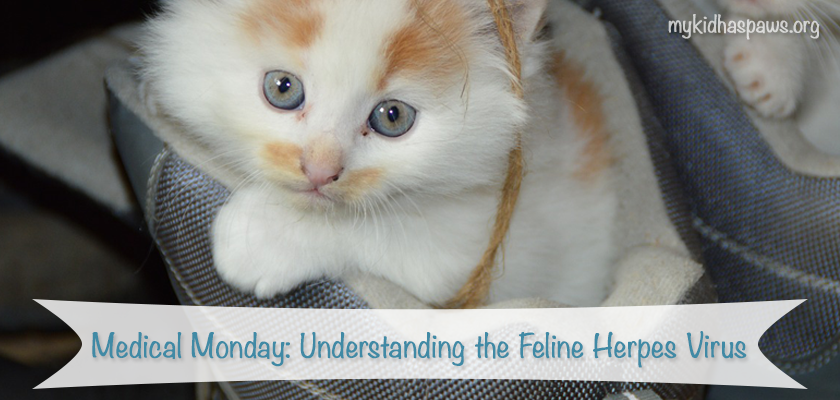 The Feline Herpes Virus, or FHV-1, is the most common type of upper respiratory virus in cats worldwide (PetMD). Yet, many cat owners are still unaware of the virus and its potential implications on their pet's health.
Feline Herpes Virus causes Feline Viral Rhinotracheitis, or influenza. This virus, like many others, is extremely common in shelter environments where cats are kept in close quarters (PetMD). The spread of the virus is caused by direct cat-to-cat contact, however, the virus survives up to 18 hours in an external environment (Today's Veterinary Practice).
While working in veterinary hospitals, I saw quite a few cats who were positive for FHV-1. They often led very normal cat lives, however, they would have upper respiratory infections (URIs) more often due to the opportunistic nature of this virus.
Once exposed to the virus, a kitten, or cat, will develop symptoms within 2 -4 days (PetMD).
What are the symptoms of Feline Herpes Virus?
According to PetMD:
Coughing
Sneezing
Nasal Discharge
Conjunctivitis
Sometimes they experience a high fever or lack of appetite
According to Today's Veterinary Practice peer reviewed article on "Vaccination of Cats Against Infectious Upper Respiratory Disease", this virus can also cause oral ulceration.
The symptoms typically run their course in 4-7 days. As soon as their symptoms are no longer present, they are now officially carriers of the virus (Today's Veterinary Practice).
However, some kittens will become ill because they have developed pneumonia secondary to the virus, or even permanent scarring on their eyes.
Is this a virus that they will carry with them throughout their life?
Yes. Just like the human form of herpes, cats never rid their body of the virus, it lays dormant within their body and they will occasionally experience "flare-ups".
When can you expect to see these flare-ups?
The virus is a bit opportunistic, and it waiting for the immune system to become suppressed to then show its symptoms once again. Therefore, keep an eye on your cat during stressful times of the year (like the holidays).
Are their vaccines available for this virus?
Yes. There are several different types of vaccines available, but the vaccine for FHV-1 is part of a combo vaccine (called FVRCP at the hospitals I worked at). The current vaccine protocol recommends giving the first combination vaccine at 6 to 8 weeks of age, then providing a booster vaccine every 3 to 4 weeks until they are 16 to 20 weeks old. As adults, it is recommended that they are revaccinated 1 year after the initial series (Today's Veterinary Practice).
If your cat is indoor only, and lives with no other cats, they may be considered low risk for the virus, and may only need to be revaccinated every 3 years. However, if your cat lives with other cats and ventures outdoors, they may need to be revaccinated every year (Today's Veterinary Practice). You will want to discuss this vaccine protocol with your veterinarian.
What are the available treatments for this disease?
Broad spectrum antibiotics may be prescribed to prevent secondary bacterial infections (PetMD).
Opthalmic medications may be prescribed for the eyes, to prevent further damage, or to control a current infection (PetMD).
Nutritional and fluid support may be necessary if your pet is experiencing a lack of appetite since maintaining healthy energy is crucial for recovery (PetMD).
What can I do to make recovery easier for my pet?
PetMD recommends removing as much stress as possible for your pet. Allow them a quite place to recover (especially if you have other cats, isolating them will prevent the spread of the virus). Also, you can make their litter box, water dish, and food bowl easily available to them in their quite recovery place so that they don't have to use a lot of energy to get around.
Dehydration and poor nutrition can lead to fatal consequences, so make sure that your pet is eating (provide them with easily digestible food), and make sure they have access to plenty of water.
Does your cat suffer from Feline Herpes Virus? How often does your cat experience symptoms?
Don't forget that you can protect yourself, and your pet, with pet insurance. Avoid the financial surprises that come along with owning a pet. Click below to get yourself a free quote from Trupanion.