Welcome to another edition of Medical Monday where we discuss veterinary medical issues experienced by pets and their families.
Did you know that I had 2 chinchillas when I was in college?
Well, I did! Their names were Chili & Cheese. 🙂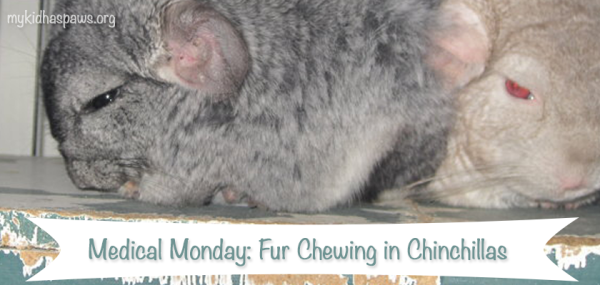 Chili was the standard gray chinchilla color and Cheese was the almost albino one.
Today I want to talk about a common disorder seen in chinchillas: fur chewing.
Although it is still considered to be an abnormal behavior, according to Merck/Merial, it occurs in about 30% of chinchillas.
This is a behavior where they chew on their own fur, or the fur of others, which causes their fur to look spotty or "moth-eaten".
What causes this behavior?
According to Merck/Merial, fur chewing can be caused by:
boredom
stress
malnutrition
warm or drafty environments
or increased hormonal activity
What signs should I look out for?
Their fur will actually look darker in some spots due to their exposed underfur. Typically, you will observe these dark spots around the shoulders, flanks, and paws (Merck/Merial).
What is the current treatment?
Because the different causes of this behavior vary, there are several different treatment options.
Decreasing room temperature and humidity could be the solution if the environment is the issue.
Changing their diet would be the solution if you are suspicious that their diet might not be sufficient.
Remove, or reduce anything that may be causing them stress.
There are also certain ointments, tablets and supplements that you can provide for your pet, but I recommend talking to your veterinarian before use any of these treatment options.
Have you ever owned a chinchilla or thought of owning a chinchilla?
Don't forget that you can protect yourself and your pet with pet insurance. Avoid the financial surprises that come along with owning a pet. Click below to get yourself a free quote from Trupanion.