Welcome to October!!
October is one of my favorite months of the year! I just love everything about the Fall season: football, leaves falling, halloween candy…you name it!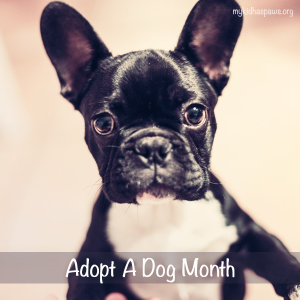 But October is also an important month for animals too! October is Adopt a Dog Month!
Animals bring so much love and joy into so many people's lives every day, and we all should experience the mutual benefits of being a pet owner.
There are so many pets world wide who are looking for homes each and every day, some in more danger than others.
Whenever you make the choice to adopt a pet you are saving a life and bringing home unconditional love.
Sometimes the life you save, may be yours.
We always talk about the benefits of adoption from the pet's perspective, but the pet parent's lives are changed at the same time!
October is also Depression Awareness Month, and many studies have shown that owning an animal can help people who suffer from depression to cope when they are feeling down.
If you Google, "How do pets help people with depression"…you are provided with a myriad of articles that tell us over and over again that those who suffer from mental illnesses like depression, anxiety, bi-polar disorder and others can benefit greatly from owning a pet and here is how:
Uncomplicated Love: every pet owner knows that the love their pet provides is unconditional and constant. Rooney is always happy to see me when I get home, and that never waivers.
Responsibility: on days when people don't want to get out of bed, the responsibility of owning a pet forces them to get up and start their day. It also helps those who suffer to feel that they are needed in order to care for someone else.
Activity: animals aren't quick to forget about their necessary exercise, having a pet forces people to get up and be active. Physical activity is good for both mental and physical health.
Schedule: Many people who suffer from depression find that it helps to have a daily routine and schedule.
Companionship: during those times when people feel isolated, they can turn to their pets for companionship and comfort
Social interaction: having a pet who needs to get outside and socialize also helps people get out and socialize, and their pet can help them feel confident in social situations.
Touch: petting a pet helps provide the physical contact needed to lower heart rate and blood pressure.
Regardless of why you need a pet in your life, we all know that we do!
So the next time you talk to a non-pet owner, tell them that you found the secret to happiness, and its at the local animal shelter.
In related news: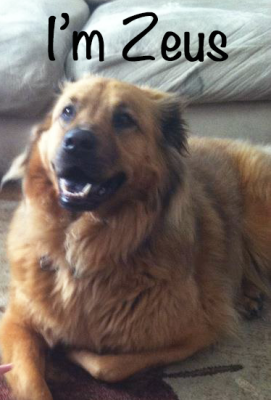 Zeus was adopted! Remember Zeus?
I posted that he was up for adoption earlier this summer and he has found his new forever home!
That being said, Rocky and Patches are still looking for their forever home! Please feel free to share their link, here.