I apologize in advance, but this post will not be very "Wordless".
Today I wanted to take the opportunity to talk to you about Frazey's Animal Rescue Bags, in honor of October being Adopt-A-Shelter Dog Month.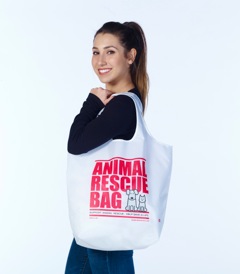 Frazey's Animal Rescue Bags exist exclusively to help pets find homes, and reduce the number of animals in shelters.
Frazey's Animal Rescue Bags are reusable and recyclable. Additionally, 50% of the proceeds from every bag are donated to animal shelters and rescues.
Here in California, many counties have adopted a "no plastic bag policy", which means that you are responsible for bringing reusable bags to your shopping trips, and if you need bags, you pay $0.10 for every paper bag you have to purchase. This law was introduced about 2 years ago in my county. At first people were upset when they were being charged for paper bags, but now people are bringing their own, and I can only imagine how much this has decreased the use of plastic in the Bay Area.
In fact, Scientific American reports that since 2011, the city of San Jose, California has seen an 89% decrease of plastic in storm drains, 60 percent decrease in creeks, and 59% decrease in streets and neighborhoods!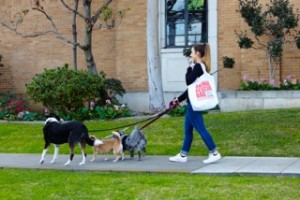 Recently, California made the news for being the first state to place a state-wide ban on plastic bags. This law will try to eliminate the use of plastic bags by July 2015 (Scientific American).
Not only are we helping the environment by manufacturing and distributing less plastic, we are also helping wildlife. According to Scientific American, the Worldwatch Institute reports that 267 species of marine wildlife suffer due to the pollution of plastic in the ocean. The main culprit is plastic bags!
So…back to Frazey's….by purchasing these reusable and recyclable bags, not only are you providing animal rescues and shelters with the funding that they desperately need…you are helping the environment and wildlife! Talk about a win-win.
In order for Frazey's to successfully put a dent in decreasing the amount of animals left in shelters, we need to spread the word! Therefore, they are allowing me to host a giveaway!
The winner will receive 5 Frazey's Animal Rescue Bags!
Frazey's Bags are:
durable
affordable
charitable
recyclable
washable
reuseable
lightweight
flexible (take up little space while not in use)
Why call them Frazey's?
That is a good question. Frazey is a 12-year-old rescue Aussie/Papillion Mix, for whom these bags are named after! Every person who buys this bag will be a Rescue Angel (Halo not included).
Have a great day everyone! Let's save some animals!