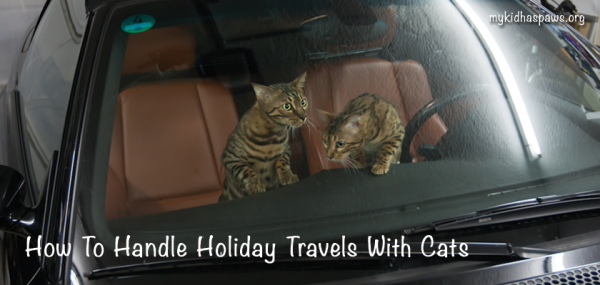 Hi Everyone!
Holidays can be a lot of fun, but can also include LOTS of travel.
Today Suzy, The Dog Training Lady, our resident pet trainer, is sharing with us some tips on How To Handle Holiday Travels With Cats. Enjoy!
Cats are creatures of habit, and generally do not like to be moved around; whether that is in a bumpy car ride or the turbulence of an airplane. Cats and travel don't **usually mix. Unless you have traveled daily with your cat since kitten-hood there's going to be some issues.
**Usually – now I say that knowing full well there is an exception to the rule all the time. I live in Florida and have living proof that cats will travel in RV's from one end of this country to the other – if this is you – I truly applaud you.
You have four choices of what you can do with your cat or cats while you're away.
 Leaving your cat(s) at home
Leaving your cat(s) with a friend or relative
Take your cat(s) with you to a pet friendly hotel
Board your cat at the vet or a boarding facility (notice I put this one last)
Lets go through these choices and you will understand the pros and cons of each option.
 Leaving your cat home: My personal favorite (and if your cat doesn't travel well – it is probably his or her favorite too).
 You will need to have a reputable pet sitter that is willing to take the time to play with, and spend a little quality time at least two times each day. They need to check the food. Even if you have an automatic feeder, they need to make sure it is working properly, the litter box, fresh water. You know the routine, and the person that will take on these tasks needs to know it also. Vet information, any necessary medications.
 I can tell you this is what I do with my cats – as I am not going to travel with 3 cats. So a word of warning here; I have had one of my cats snub me for two days after returning home after being away for a week. He wouldn't let me pet him for 2 days. Even though I have one of my adult children come over, people the cats know, people that love my cats, and grew up with these babies, I still got snubbed.
 The take away is that your cat may be still upset even if the only thing that changed is that you were away. The others cats were happy to see me. So a lot depends on your cat's demeanor, which will help you in your decision.
Leaving your cat with a friend or relative
You will be changing the cat's environment.
Do they have pets also?
Will your pets get along?
All the previous mentioned tasks for a pet sitter need to be addressed at your friend's house too. Be sure to take your cat over for short visits to see how things will go. On the first trial stay there and take the opportunity to visit with your friend, and you will both be able to observe your cats behavior. If your friend also has pets, you will be able to make sure the interactions are peaceful ones. No one likes to go on vacation in a constant state of worry, especially when it's your cat.
Take your cat with you to a pet friendly hotel
If you have decided to take your cat along for the trip you will need to find a pet friendly hotel.
If you are going to attempt this, do some trial runs. Be sure that your cat is traveling in an sturdy travel carrier.
If you are planning any air travel with your cat, go for an airline approved carrier:
The Sleepy Pod Air, or the airline compliant Pet Cooler Carrier.
Also check with your airline for their pet travel policies each one is a little different.
Try a couple of day trips in the car with your cat around town, and maybe an overnight after that, and see how your pet reacts to this.
If you have decided to go this route, be sure that your cat is healthy, and okay to travel. So off to the vet you go and get a regular check up. Advise your vet you are preparing to travel, where you are traveling to, and for how long.
Some vets will prescribe calming medication for travel, but you need to be careful with this. These medications can cause your cat's respiratory system to slow down, and depending on the travel situation this may be hazardous. You can look into homeopathy remedies for this, there are many available, and it's a better alternative.
Board your cat at the vet or a boarding facility
Questions you should ask them: is there someone there 24 hours a day, and the weekend schedule. Some facilities close and lock the doors at night, and the cats are left in a cage. Be sure to ask, and ask friends for recommendations as well as them before leaving your cat. I am not saying this is a bad choice, for me I don't believe any of my cats would handle this well.
I have provided a quick video, so you will know what to look for, what to ask, and how to prepare.
This really comes down to ONE THING, what is your cat's tolerance level to change. Only you know that, and only you can make the decision. Your cats love you, and trust you will do the best thing for them.
 I wish you all a happy, safe and purr-fect holiday.
 Until next time
Pawsitively Yours,
Suzanne Dean, ABCDT
I want to thank suzy once again for all of her time and research.
What are your travel plans for your pets this holiday season?