I am lucky enough to know a few veterans who have served this country. Some of them are still serving, and some have retired.
Of those who have retired, many have battle scars, some of which aren't visible, some are internal struggles that we will never understand.
I can't tell you how important it is in my opinion that our veterans receive they support they need YEAR ROUND, not just on days like today.
Yesterday, Dog is Good launched a new program called Dog is Good for Patriots. This program, is a year long program that is working to raise awareness about how important service dogs are for our country's veterans.
Dog is Good is a lifestyle company whose mission is the following: Deliver Dogvergnügen (The joy you feel in the presence of Dog).
Dog is Good has partnered with Freedom Service Dogs of America. Freedom Service Dogs of America rescues dogs from shelters and provides them with custom training to be service dogs for wounded warriors.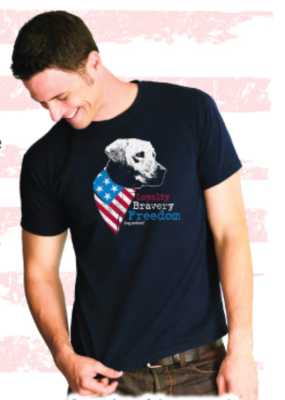 A portion of every Patriot t-shirt they sell will help benefit the Freedom Service Dogs of America.
Please check out their website and see how you can help our veterans today!
Remember, there are organizations around our nation that you can get involved with. Sometimes, its as simple as providing transportation for an injured vet, please check within your local community.