Many moons ago, I was lucky enough to win a shopping spree from the UncommonDog.com.
Winning the contest gave me the opportunity to purchase an item that I had been wanting for a long time. Although I had something in mind, it was very helpful to have help from the personal shopper they provided (special thanks to Colleen for all of your help). She was able to help me with the difficult questions that often pop up due to online shopping. For example, what is the best size for Rooney? (This will forever be a tough question considering Corgis don't fit into a small, or medium, dog category, so the extra help was much appreciated.)
The item I had been waiting to buy was the Cozy Cave. After living with Rooney for about 6 months (circa August 2012) I knew that Rooney was looking for more from his dog bed. After all, he was giving us lots of hints.
He would pull the blankets off of me so that he could have a blanket at night.
He would burry himself in any pile of blankets/laundry he could find.
Finally, I understood.
What he needed was a dog bed that combined utility, comfort, blankets, and had plenty of room for his long body. So I vowed that I would one day get him the ultimate dog bed….the Cozy Cave.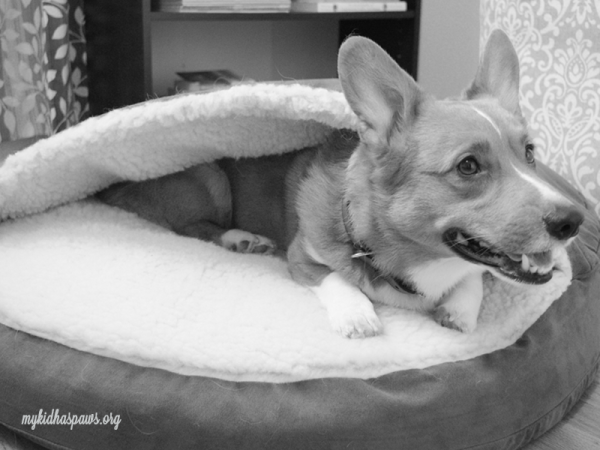 Rooney's Cozy Cave is in my office, and it is where you can usually find him in the evening (right before bed time), or while I am blogging or doing homework.
I wish I could say that he is there right now, but he isn't. Maybe just to prove me wrong. OR, maybe because the front window is open and there are birds to watch.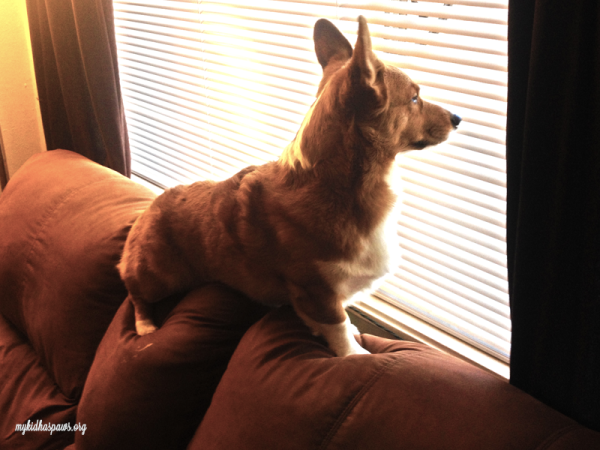 The other items we received from the UncommonDog.com included a Solvit PupStep + Stairs and the Bowsers Luxury Seat Cover  in Houndstooth (as of today, they don't have the exact cover on their site, but here is another one).
The Solvit PupStep we purchased after Rooney hurt his back to help him get on and off of our bed. Rooney hasn't yet caught on 100% to the stair concept yet, so this is still a work in progress.
The seat cover however is doing wonders to protect our car from mud and nail scratches. In addition, it is very padded and has received complements from some of our recent passangers.
I definitely recommend visiting the UncommonDog.com, it is a great site with LOTS of items.
Let me ask you…if you won a shopping spree, what would you buy your dog or cat?
Thank you to Sugar the Golden Retriever and Dachshund Nola for hosting this blog hop.