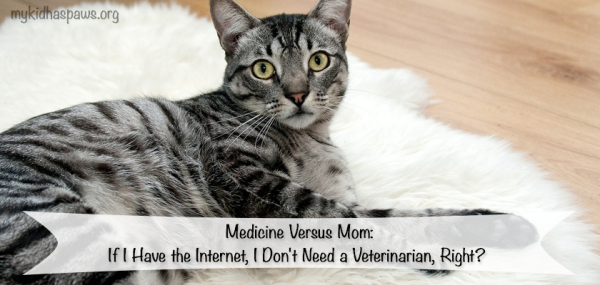 Carol Bryant from Fidose of Reality and myself, have decided to bring together our experiences in order to give you two sides to the same story. If you missed our inaugural post of Medicine versus Mom, you can check it out here.
 If you aren't familiar with Carol Bryant, she is a good friend and fellow pet blogger. She is the founder and CEO of Fidose of Reality. If you haven't checked out her blog, you really should! As a seasoned blogger and writer she brings her dedicated pet parent perspective to share will all "Dog Lovers of the Highest Order". Her posts are always a must read for me, and for any other pet parent out there. As we progress through our Medicine versus Mom series, I hope to share with you even more reasons why Carol is awesome! 
Today we want to talk about when to believe the internet and when you need to call your veterinarian.
How do you know when you can help your pet by sourcing the information yourself, and when you need to call your veterinarian?
The truth is, I will always recommend doing both. I think that people have a right to empower themselves with information and should do so dutifully. That being said, information on the internet will never be specific to your pet's medical history and background, and that changes everything.
For example, you may read that your pet's current ailment could benefit from a steroid based medication. HOWEVER, if your pet had high kidney and liver values on their last bloodwork, the steroid could cause them to go into kidney or liver failure. Although the discussion board says that many pets were cured due to this medication, those other pets didn't have the medical history of your pet, and this medication could be fatal to them.
Medicine is complicated (i.e. the many years of education), therefore you need to find a veterinarian that you trust, but also one that empowers you to do your own research and understand the diseases your pet may face.
Understanding Diseases
If your pet is suffering from a long-term ailment or disease, this is a great time to do your own research. You may become aware of some new experimental treatments and drugs, and it would behoove you to discuss those alternatives with your veterinarian.
If your veterinarian isn't willing to research new methods, and isn't willing to hear about your research, this may not be the right veterinarian for you. My best friend is a veterinarian (and Rooney's doctor), and I approach her about new ideas, products and alternatives frequently, and she is always willing to learn more.
Emergency Situations
In an emergency situation, call your veterinarian! Searching for answers on the internet is not going to help you in an emergency situation. Don't hesitate, just call.
We all should know by now that not everything we read on the internet is true.
I want to do my own research, but how do I find trusted information?
When working at the vet hospital I heard the following sentence numerous times. "I read online that…"
Sometimes the rest of that sentence included some truthful information, but often times the sentence was shrouded with false information.
This may sound funny coming from someone who blogs, and provides you with information on a regular basis, but its true. The internet is full of false and exaggerated information.
So how do I know who to believe?
Whenever I visit a new blog or website I look for a few things:
If I am visiting a blog, I go straight to the About page. Why? Well, if this blog's main focus is space travel, and the author has a background in commercial real estate, I am definitely not going to dive into every word they say and take it as fact. HOWEVER, if that same blog has an author who was an astronaut for 25 years, or was an engineer for NASA, I am much more likely to believe the information is legitimate.
I also check blog posts for reference information. If the author is stating heaps of factual information, they should be providing their readers with a reference. More importantly, that reference should be a reputable site, book, or journal.
Reputable sites are sites associated with industry experts. For example, you often see me site PetMD. I trust PetMD as a source because every article written on their site is reviewed and approved by a veterinarian. Many of their articles are also written by veterinarians themselves.
This is also true when searching for credible books. A book that you will see me reference often is Merck/Merial Manual for Pet Health. Merck and Merial are two companies that are highly integrated in the veterinary community. The Merck Manuals are used by veterinarians around the world. My very first copy of the Merck Manual was given to me by the first veterinarian I worked for, Sally Borges, DVM. She told me that this would become my best friend while working in veterinary medicine, and she was right.
Let's say you have now found a site for your pet that you know and trust. The site is written by an industry professional, and all of the information is referenced with credible sources. Great! Now take those sources and new information to your veterinarian and get to talkin!
To read Carol's Mom Perspective on this topic, please click here.