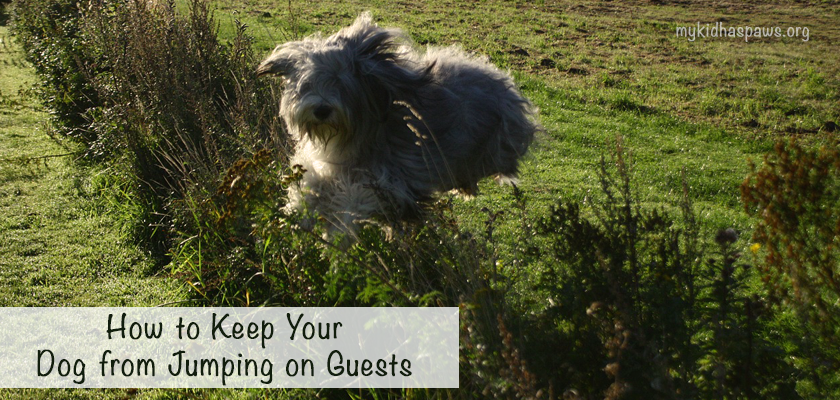 Hi Everyone!
Holidays can be a lot of fun, but can also include LOTS of guests.
Today Suzy, The Dog Training Lady, our resident pet trainer, is sharing with us some tips on How to Keep Your Dog from Jumping on Guests . Enjoy!
Is Your Dog Jumping for Joy?
Humans jump for joy, and our dogs jump for joy every time they see up walk through the door. Now are you wondering where I am going with this? Yes, you're exactly right; how do we stop your dog from jumping to greet every holiday visitor that comes to the door? How do we stop your pooch from jumping on you every day when you get home? Now imagine that a person did this every time to greet you, you would perhaps think this to be a little strange (in some ways deep inside you'd probably a little flattered too, come on admit it).
Jumping on you as you walk in the door, or as your guests come to visit, is not an acceptable behavior for humans or dogs. Does your dog do this every time you come home, and every time you have guests? Well it can be corrected with a little training, time, and patience.
When I teach dog-training lessons, the first thing I like to do is help you to understand the reason behind why dogs do what they do. You need to get in their head, when you do this, when you understand what is behind the behavior, you can train your dog with more patience, and understanding.
So why do dogs jump? They are happy to see you, and it's the same for your guests. Not only are they happy that you have returned, you bring with you new smells and scents from another places. If you have been around other people's pets you will also get the big sniff down. It almost feels like a pat down doggy style. Okay now, stop laughing at that last sentence, and get your mind back here.
How do we teach our dogs to greet us appropriately? This needs to be done in steps.
We will start with the appropriate greeting when you get home.
First – plan on becoming a treat packing pet parent. Just those little one-calorie treats will do. If you do not have a food-motivated pup, start carrying your dog's second favorite toy. (The favorite toy needs to be left at home while your gone). If you can when you know which toy is your dog's favorite, buy a second one just like it. This is just temporary till your puppy understands how to greet you correctly.
Second – When you walk in the door, ask for a sit, don't show the treat or the toy just yet, we don't want a bribery sit we want a genuine sit. If he does this the first time (your a lucky dog, pun intended), pet your dog in a calm manner (if you do this excitedly you will cause him or her to begin jumping, just what we don't want) and offer the treat or the toy. Most likely, if your dog has been jumping to greet you for some time, and you have just been tolerating it, this is not going to happen the first time. When your dog begins to jump on you – turn your back on him or her and fold your arms. They are jumping because they are looking for your attention, so don't give it to them. When they stop jumping turn around to face them, ask for a sit, if you get it, go ahead, and praise them with petting, and a treat or the toy. If they jump again, rinse and repeat (I stole that line from the back of the shampoo bottle), until you get the behavior you want and expect from them.
If your dog has gotten use to jumping on you everyday, this will not change on the first try, so be patient and persistent. It is now your responsibility to do this each time you walk through that door. If you forget one time, and the jumping begins, you'll be starting all over again.
If you remain consistent with this training, you will eventually see a change in your dog's behavior, and they will begin to sit when you enter your home in expectation of praise, treat, or toy. Eventually, praise will do just fine, but make sure you have a consistent sit before you cut back on the treats or toy. Now you will want to jump for joy the first time they do this on there own – DON'T or your dog will start jumping too, just jump for joy in your mind that you have success. (Okay, I hear you, I'm not a comedian, and I'll keep my day job.)
Jumping on your visitors.
This will be handled a little differently because you're on the inside with your dog. You will still have your treats, or toy close by, but also have your dog's leash near the door.
First – When your guests come knocking, place the leash on your pet and put the loop of the leash on a door knob or under the bottom of a chair, and say "go to your spot" (You will use this command later on, when the behavior has been learned). Just be sure the leash loop is on something sturdy, and stable so your dog can't drag it over to the door. This spot needs to be close to the door, but out of jumping range. We want your dog to be able to see who is coming in. One little trick here, is make this the same spot every time, and put a small bath mat or piece of carpet in that spot, I'll explain this in a minute.
Second – Now that he is on his mat, ask for a sit, and stay, as you go answer the door. Most likely what you will see at first is your pooch jumping, and trying to get to your visitor. Be sure to explain to your guest that your pup is in training, and to please ignore him, or her until they settle down. Once they do settle down into a sit position offer them praise, a treat, or toy for correct behavior. If your dog starts jumping as your guest approaches go back to ignoring the puppy until they have settled down, and try it again, and again until you get success.
When working on training, and behavior modification it is best to always end with success.
Just as I mentioned before, if your dog has been jumping on you, and your guest when they enter the home on a regular basis, this change will not happen overnight. It takes practice, and persistence on your part to get this behavior to be a consistent one.
Third – Once you are getting a consistent sit when visitors come knocking, you can begin to ask your puppy to go to his spot (this is why I mentioned the mat earlier) and ask for a sit and stay, and try without the leash. If it happens, hurray for you, you have succeeded. If at any time your dog reverts back to his old habits, its back to kindergarten. Back to the leash, and start over. Be patient they'll get the hang of it.
Remember also, if you have a significant other in the home you can practice being the guest. A little practice before you actually have guests come over, your visitors will be so impressed, pretty awesome.
When I was first teaching my dogs this, it reminded me of my kids when they would grab my pant leg and start with the "mommy, mommy, mommy" until they got my attention. Whether or not you have children you've seen it done to your friends that have kids, and moms tend to become oblivious to this as a parent, till it starts getting on their nerves anyway. Now, the kids will grow out of this eventually.
Your dog on the other hand, may or may not grow out of it, and if you have a breed that will grow to be 40, 50+ pounds full grown, you can see where this is going. You and your guests will get knocked over in a heartbeat. Start this training as soon as you can; it's never too early to train your puppy to greet you, and your guests appropriately.
Now, with it being the holidays, and many of you are having parties, this is not the easiest time to train your dog for this behavior, as visitor after visitor will be coming to your door. You'll get a lot of practice if you can make it happen, but more than likely your dog is going to be overwhelmed by all the visitors coming and going, and your trying to entertain, not exactly what the trainer ordered for this behavior modification training.
Try to get in as much practice as possible before parties, and festivities begin. Play out this scenario with the help of your significant other, or a friend. Have them come knocking on your door a few times, and use the leash method. Do this several times, and your dog will get the hang of it. Stay consistent and you will have a dog with proper greeting behavior in not time at all.
Here is a great 2-minute Howcast video that reviews some of the methods I have just explained.
As this year comes to a close I would like to thank Rachel, and Rooney for allowing me to guest post here monthly. I would also like to wish all of you Happy Holidays, and a healthy, prosperous New Year.
If you need more training tips for your dog, or puppy, you can visit me at www.thedogtraininglady.com
Pawsitively Yours,
Until Next Year
Suzanne Dean, ABCDT