Each week, Rooney and I will pick a pet product we believe improves the lives of pets and pet parents. 
Many of you may remember that Rooney hurt his back earlier this year (post here).
Corgis and other "long back" dogs are very prone to back injuries. Luckily, Rooney's slipped disc earlier this summer was very minor and he didn't have to have surgery.
Fast forward a few months, while on Twitter, I discover a company called WiggleLess. When I realized that WiggleLess was a back brace that provided support for dogs who were prone to back injures, I knew I had to share it here on my blog.
What was the inspiration behind WiggleLess?
Her name was June.
June was a beautiful Dachshund who began to suffer from IVDD (Intevertebral Disc Disease) when she was only two years old. Similar to Rooney, June had an initial incident that was treated with anti-inflammatories and cage rest. However, June would go on to repeat her injury at the age of three.
What are symptoms of IVDD?
According to PetMD:
Unwillingness to Jump
Pain and Weakness in Rear Legs
Crying Out in Pain
Anxious Behavior
Muscle Spasms on Back or Neck
Hunched Back or Neck with Tense Muscles
Reduce Appetite & Activity Level
Loss of Bladder or Bowl Control
When Rooney was hurt, he was unwilling to move, even for food. By the time we got to the emergency room he was already suffering from ataxia (not able to locate his limbs in space).
For more information on Intervertebral Disc Disease in Dogs, please visit PetMD here.
June's parents were told that she was going to be struggling with these injuries for the rest of her life, and ultimately may suffer from long term pain and discomfort. Frustrated, June's mom realized that June needed a back brace that would allow her live freely, but would prevent her back from twisting.
Both June and her brother Henry wore their WiggleLess back braces until sadly they were both diagnosed with cancer. Although they left us too soon, their days were no longer plagued with back problems after they started wearing their WiggleLess back braces.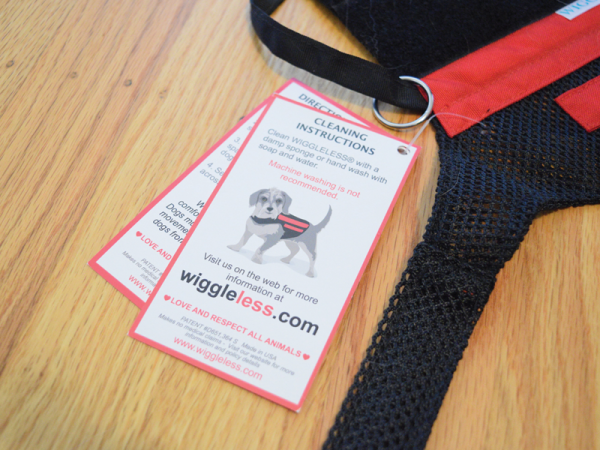 How does the WiggleLess back brace help?
The built in boning provides support while the durable mesh material allows for a smooth, comfortable, and breathable fit.
The brace also comes with a metal loop to attach a leash allowing your pet to have outdoor freedom in addition to back support.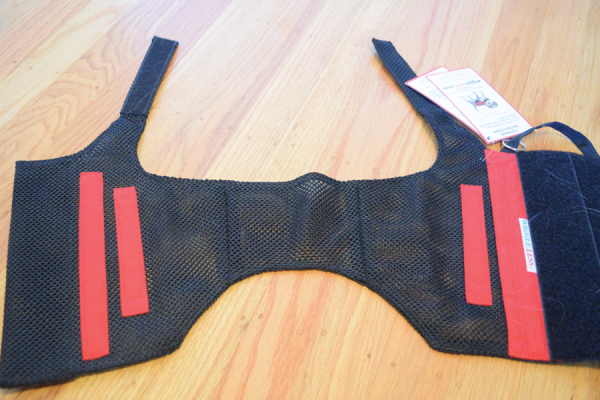 Do they have long size for the longer breeds?
They sure do! Because IVDD is often diagnosed in some of the long back breeds, the WiggleLess back brace comes in regular and long sizes.
For the full size chart please click here.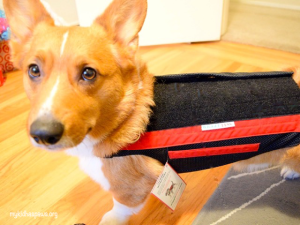 What do I love most about this product?
It provides a solution to a very common problem for many breeds. Additionally, it provides us pet parents with another form of protection and comfort for our pets.
Do you know a dog who could benefit from the WiggleLess back brace?
Disclaimer: This post is sponsored by WiggleLess. I was provided with free product in exchange for my true and honest opinion. My Kid Has Paws only shares information we feel is relevant to our readers. WiggleLess is not responsible for the content of this article.