Raise your hand if you remember the movie 101 Dalmatians!
If you recall, this movie was actually released several times. The original animated movie was released in 1961, and then re-released several times including a release in 1985, and again in 1991 (according to Imdb and SavetheDals.org). Not to mention, the release of the live action film in 1996 (SavetheDals.org).
With the release of these movies, came an interesting rise in popularity of the Dalmatian breed.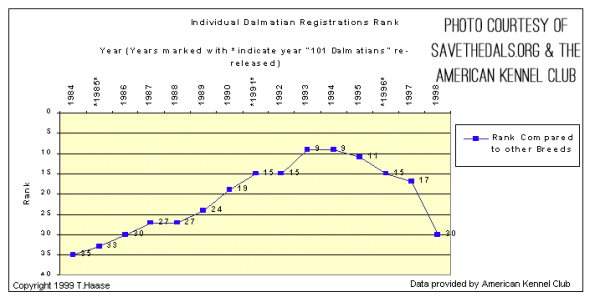 Firstly, I want to thank the AKC and SavetheDals.org for the use of the above graph.
Note, according to the graph, Dalmatians were ranked 35th in popularity in AKC rankings in 1984, and began to climb in popularity after the re-release in 1985, and moved up again after the re-release in 1991, jumping all the way to #9 in AKC rankings. Also, note that the breed's popularity decreased both before, and after, the live action release in 1996.
The above data could lead us to conclude a few things:
1. The re-releases of the 101 Dalmatians movie did influence the popularity of the breed in the United States. This effect may have been greater than the initial release of the movie in the 1960's (but that information has not been provided).
Whenever a breed spikes in popularity so abruptly, it is fair to assume that this breed may not be the right fit for people who are buying, or rescuing, this breed (possibly at the request of their children, or through direct media influence), and therefore, the breed will eventually drop in popularity at some point.
2. The decrease in the breed popularity during the 1996 release may have been a result of the breed spiking in popularity, and possibly not being a good fit for everyone.
Dalmatians are a great breed of dog, but like many other breeds in the dog world, they aren't a good fit for every person and every family. In this case, the Dalmatian is a high energy breed that requires a lot of exercise, and high energy dogs certainly don't fit every lifestyle (AKC).
While researching this issue, I ran into a lot of different opinions regarding whether or not Hollywood can influence breed popularity.
In my opinion, it can. Much of the contrary argument pointed at the decrease in breed popularity during the 1996 live action release. Personally, I think that is directly correlated to the increase in the breed popularity prior, and then the realization that the Dalmatian is not for everyone.
What do you think?