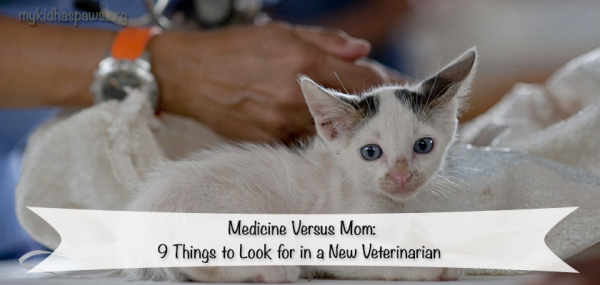 Once again, Carol Bryant from Fidose of Reality and myself, have decided to bring together our experiences in order to give you two sides to the same story. If you missed our inaugural post of Medicine versus Mom, you can check it out here.
 If you aren't familiar with Carol Bryant, she is a good friend and fellow pet blogger. She is the founder and CEO of Fidose of Reality. If you haven't checked out her blog, you really should! As a seasoned blogger and writer she brings her dedicated pet parent perspective to share will all "Dog Lovers of the Highest Order". Her posts are always a must read for me, and for any other pet parent out there. As we progress through our Medicine versus Mom series, I hope to share with you even more reasons why Carol is awesome!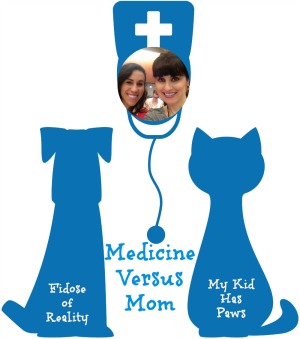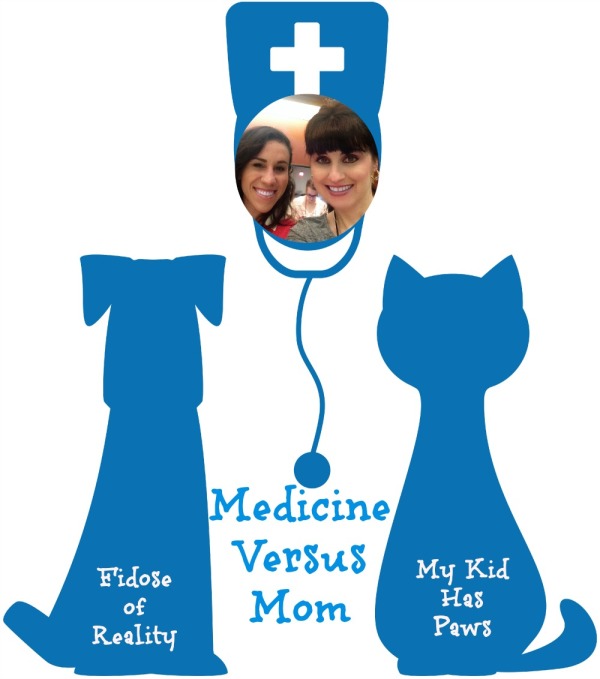 How do you know when it is time to find a new veterinarian and what do you look for in your new doctor?
Personally, I think the #1 reason anyone should look for a new veterinarian, is if the veterinarian's practices aren't in line with their needs as a client.
From my experience, there are several different aspects that clients look for in their veterinarian:
1. Medicinal Practices: How generous or conservative is this veterinarian when it comes to pain management and anesthetic protocol? Don't be afraid to ask how they monitor anesthesia and control pain during surgeries and procedures. It is important that they provide a level of transparency with you and your pet's health.
2. Difference Makers: What does this veterinarian provide that another veterinary hospital couldn't? Do they have exceptional experience? Unmatched equipment? Find out why they will be able to provide your pet with the best treatment available in your area.
3. Ability and Willingness to Answer Questions: Have you ever been in the room with your doctor, or veterinarian, and felt like they weren't willing to explain? Or even worse, that they were patronizing you during their explanation? This is enough to make anyone change their doctor or veterinarian. Definitely take the time to look for someone who will do their best to help you understand, and doesn't make you feel unintelligent when doing so.
4. Understanding Finances: Everyone has a different budget and disposable income when it comes to their pets. A veterinarian should be as understanding and flexible as possible when it comes to your pet's treatment. They should be willing to explain to you the difference between the absolutely necessary treatments, and the treatments that could wait for another day (if applicable).
5. Diversity of Medicine: Look for a veterinarian who is highly educated and accredited. Veterinarians often seek additional education and certification after attending veterinary school, which furthers their knowledge and ability to treat your pet. All veterinarians and veterinarian technicians are required to keep up with their states CE or Continuing Education requirements, but some professionals in this industry go above and beyond the required education.
For example, Dr. Summer Godfrey who works at Pleasanton Veterinary Hospital not only graduated from UC Davis with her DVM (Doctor of Veterinary Medicine), she also graduated from the Chi Institute of Traditional Chinese medicine in 2008, which allows her to treat patients with a combination of eastern and western medicine. She provides her patients (Rooney) with more tools to improve their health.
6. Location: Let's face it, location matters when it comes to a veterinarian. Not only is it more convenient to have your veterinarian near by, it is also better for your pet's health and safety if you ever experience an emergency situation. The area that we live in also supports 24 hour veterinary emergency, and it just so happens that Rooney's doctor mentioned above, works there also.
7. Willingness to Make Adjustments: Sometimes, your pet needs adjustments to their treatment plan. For example, we had this one patient who would lose her mind the second we brought her in the hospital. However, if we examined her, and did most necessary treatments outside by the grass, she felt totally fine and very comfortable. Obviously, if this patient needed a procedure or some major treatment, we would have to bring her inside, but for her annual exam and vaccines, why not leave her where she is most comfortable?
Now that I think about it, we had a few patients like that, and we were always willing to make adjustments for our patients, and I think this was important to our clients.
8. Relationship with Specialists: If your veterinarian is unable to perform a specialty surgery or procedure, are they able to put you in contact with the right doctor? If your veterinarian isn't available 24 hours, can they put you in contact with an emergency or other 24 hour hospital? These are important things to consider when evaluating a veterinarian.
9. Bedside Manner: this is a fancy term for how much tact a doctor has when dealing with you and your pet. I have worked with veterinarians who are very friendly and have excellent bedside manner, and I have worked with veterinarians who are a little on the quirky side. Regardless, the initial first impression of a veterinarian is something that usually gets burned in a client's brain.
Most important, is whether or not your pet likes your veterinarian's personality and disposition. Sometimes, certain pet's tend to gravitate toward one gender or another, and it is important that they feel comfortable.
If your veterinarian isn't meeting your expectations, how do you go about finding another doctor?
1. The American Animal Hospital Association (AHAA) provides pet parents with a list of accredited veterinary hospitals. Each AHAA accredited veterinary hospital meets AHAA standards on 900 different measures of veterinary excellence.
2. Be weary of local review sites and forums. Although some reviews provide some truth, people are motivated to write reviews when they are upset, so take what people say with a grain of salt.
3. Don't forget to ask your pet parent friend's who live in the area, but make sure your questions are specific to exactly what it is that they like about their veterinarian.
Have you ever made a veterinary switch? What motivated this move?
For Carol's Mom perspective on this subject, please hop over to her blog here.