According to USA.gov, here are the 13 most popular New Year's Resolutions: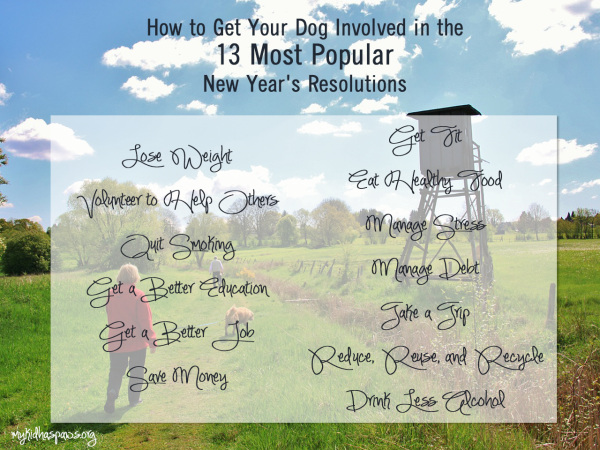 Here are the ways to involve your dog in achieving each of these goals in 2015.
Get Fit/Lose Weight/Eat Healthy Foods/Drink Less Alcohol: These four resolutions can be categorized as "Having a Healthier Lifestyle". Living a healthier life is something we all want, and many of us are always trying to achieve this goal, but its such a hard goal to achieve especially when you feel like you have to accomplish this on your own. So why not include your dog in your health goals?
Research supports that pets reduce blood pressure, lower cholesterol, decrease the signs of depression, and increase your heart health (WebMD). In addition to that, they can also be a motivating factor in increasing your exercise regimen. Don't just make a promise to run every day by yourself, make a promise to your dog (they will pick up on the routine). Trust me, its a lot easier to get out of bed and get going if they hold you accountable.
Don't stop with running. There are so many ways to integrate your pet's exercise with yours. For ideas and tips, please visit my good friends Dawn and Jack at Leash Your Fitness.
In regards to eating healthier, resolve to improve the foods that both you and your dog eat. The first step I will take in improving both the health of Rooney and myself, is understanding what is in the foods we eat, and how that affects our bodies. Many people count calories without realizing the actual content of their food is what matters to your body, and the same goes for your pets.
We reviewed several foods and treats in 2014, each of which we believe improves the overall health of pets. Here are the links:
In regards to drinking less alcohol, let your dog enjoy the beers for you. That's right, instead of pouring yourself a beer, just pour one for your dog instead. For more information, you can check out our post on Bowser Beers here.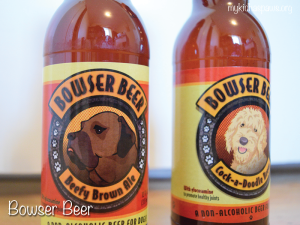 Volunteer to Help Others: There are many organizations all over the world that could use more volunteers. Choose one that is close to your heart, and volunteer if even only a few hours each month. If you need extra motivation, choose an organization where your dog can also volunteer. In college I didn't have a dog living with me, but I used to take SPCA dogs to visit seniors at the local senior center, and it was the most rewarding experience. Watching animals help people is a double reward.
I recently became a member of Canine Companions for Independence which is an organization that helps dogs, help people. Whatever your motivations are, look inside your heart, and find a way to make this world a better place, and take your dog with you!
Quit Smoking: Here is some sobering information. Second hand smoke doesn't only affect humans, it affects the health of your pets too! According to PetMD, pets who are exposed to environmental tobacco (brought on by second and third hand smoke) are at higher risk for oral and lung cancer. If you think that by smoking you are simply putting yourself at risk, you are so very wrong. If you can't quit for yourself, quit for your pets.
Get a Better Education/Get a Better Job: Dogs live their lives in a very simple way (see photo below). When it comes to finding a Better Education, or a Better Job, I challenge you to define better. Better doesn't always mean more money, or a higher level education, sometimes better means finding something more suited to your talents and your passion. Currently, I am pursuing my MBA in order to one day, find a way to merge my business knowledge with my passions for animals and improving their lives. That is my definition of better. I urge you to adopt the philosophy of dogs, and don't spend 2015 on something that isn't worth your time or your passions…just pee on it and walk away.
Save Money/Manage Debt: As a pet owner, there is a very simple way to help yourself save money and manage debt in 2015. If you haven't already, get pet insurance. We've had Rooney covered under pet insurance since we adopted him back in 2012, and it has already paid for itself. Not to mention, it has helped us as a young couple manage our debt and give Rooney all of the medical care he needs.
Take a Trip: Plan a trip this year that takes you to places you have never seen, and bring your dog with you! In keeping in line with Getting in Shape and Losing Weight (which we all know we are trying to do). You can plan a trip to visit all the dog friendly hiking trails in a new state or country. If you do like to travel with your dog, and plan on staying organized your should check out the Wag N Go!
Reduce, Reuse and Recycle: With the rise of Pinterest, has come the rise of DIY. These days DIY projects are all over social media, and for good reason! Making something yourself instead of buying it from a store is so rewarding! Don't forget to involve your dog in some of these DIY crafts. You can do anything from creating your own Prints, Dog Pillows, Dog Beds, or Dog Toys.
What is your New Year's Resolution, and how will you get your dog involved?