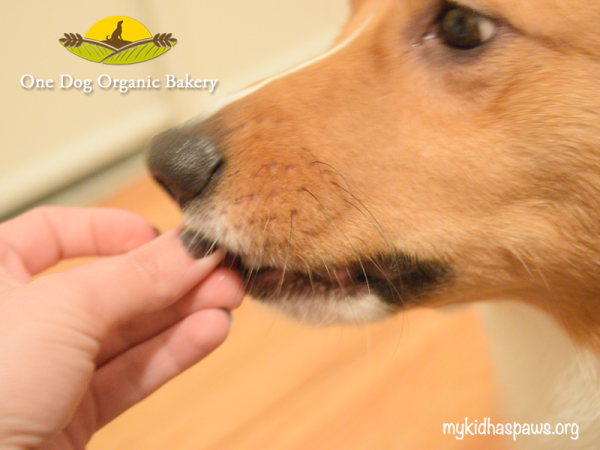 The One Dog Organic Bakery treats were provided by One Dog Organic Bakery. My Kid Has Paws only shares information we feel is relevant to our readers. The opinions in this post are my own. Each week, Rooney and I will pick a pet product we believe improves the lives of pets and pet parents. 
Have you ever run into an issue with your pet's health or lifestyle, and thought to yourself, there has to be a better way?
Veronica from One Dog Organic Bakery did. When she lost her 2 year old cat to kidney failure caused by melamine found in a pet food recall, she vowed that she would not only find a better solution for her pets, she would bring that better solution to market.
She started by cooking and baking her own pet food, and quickly her family and friends were knocking down her door to get their hands on her products. Not only are they delicious, but they are made from products that we have in our very own kitchen.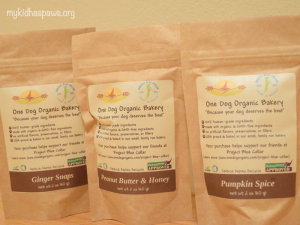 As we start, or continue, with our New Year's resolutions, we need to consider our pet's food and health as well as our own.
As I myself am making an effort to eat healthier this year, I am very concerned about what ingredients are my food. Do you ever read the nutrition labels of the food that you eat? There are so many ingredients that aren't real ingredients.
This is something that you will never see from One Dog Organic Bakery. You will always be able to identify the ingredients and you can rest assured that your pet's health is protected.
Tell me more!
Small Batches Baked to Ensure Quality
USA Sourced Ingredients
Family Owned Business
No Chemical Preservatives
No Fillers
No By-Products
No Hormones
No Salt
No Artificial Colors or Flavorings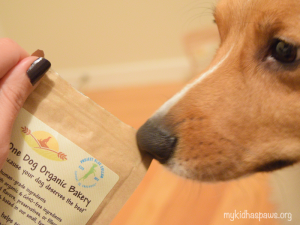 Do you love them yet? There are even more great things to share…
Because the batches are baked fresh in small amounts, the treats can be customized for your dog's allergies!
Not to mention, that One Dog Organic Bakery roots itself deeply in helping rescues and shelters. In order to help rescues and shelters around the U.S., One Dog Organic Bakery creates unique discount codes that will donate a percentage of your purchase to a rescue or shelter.
As you can see, Rooney thinks these treats are delicious, and I am so happy to be making our 2015 so much healthier by giving him One Dog Organic Bakery.
Use the discount code NEWYEAR15 to receive 15 % off of your order (offer good until 3/30/15).
To purchase your very own treats from One Dog Organic Bakery, please visit their store here.