Recently, we took a family trip to central California and our friend was kind enough to invite Rooney to his house as well!
Because I am still in grad school, we don't get to take a lot of trips as a family, but I really wanted to make sure that I was prepared for anything that Rooney needed for three days. So I thought I would share with you Rooney's travel essentials.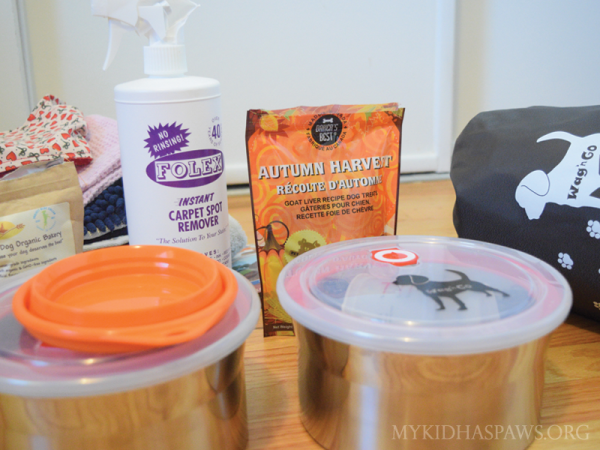 First things first, I brought Rooney's Wag N' Go. I reviewed this product last year when they were still being funded by Kickstarter, and I love it! Why? Well, because it is hands free and comes with all the zippers, pockets and containers you might need for your pet's stuff. I HIGHLY recommend it for my friends who will be attending the BlogPaws Conference this year!
 I highly recommend purchasing a Wag N' Go! The two food tubs and travel water bowl, make it so easy to gather the essentials.  You can purchase your own Wag N' Go here.
The top section of the Wag N' Go contains a blanket, but because Rooney has a blanket already in his crate, I decided to take that out of the Wag N' Go and use that space for other things I needed.
I brought the following items in addition to food, his kong, and his crate.
1) Small Towels: Rooney has a tendency to make a mess when he drinks water, and I feel that when staying at someone else's house, we should try to minimize the mess as much as possible.
2) Carpet Cleaner: Although Rooney doesn't have accidents, he has gotten sick on a trip before because he found some morsels of food that dropped on the ground, therefore, I wanted to bring the carpet cleaner just in case this happened in the house.
3) Alternative treats: Rooney needs not only food, but treats for his kong. A kong filled with treats is always his reward for going in his crate. 🙂 Rooney is very food motivated, so I try to always mix up his treats as an extra incentive. My reasoning is that, even I am capable of getting sick of my favorite food or dessert if I have it too many days in a row. Therefore, variety helps keep my interest, so I use the same reasoning for Rooney's treats. I of course included One Dog Organic Bakery Peanut Butter & Honey treats which are Rooney's favorite, in addition to some other treat varieties that we received through our monthly BarkBox.
4) Emergency Bath Essentials: Rooney has needed an emergency bath on a number of occasions. By emergency, I mean that he found a puddle of mud and dove in it, and now there is no way he can go inside anywhere, let alone someone else's home. Therefore, I packed his shampoo, his Muddy Buddy Dog Mop, and an extra large towel.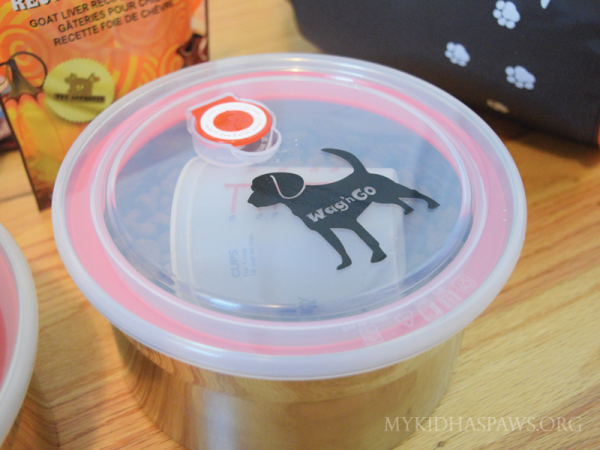 5) Life jacket: Nothing about Rooney's composition improves his ability to swim. He has short legs and no tail. That being said, he loves to swim, and I don't want to deny him one of life's joys. Since we were going to be near the beach, I thought it would be wise to bring this just in case.
6) Earth Rated Poop Bags: These poop bags work great for us because they are affordable, sturdy, scented, and environmentally friendly. These are a must when it comes to taking Rooney anywhere because he will poop about 3 times on a walk.
7) The Fifth Paw: Because Rooney poops so much, I love The Fifth Paw which will hold his filled poop bags while we continue our walk. This product is a must for me!
8) Leashes: In addition to Rooney's regular leash, I also brought a light-up leash. I did this just in case there was no yard, and we would have to walk him at night for potty breaks.
9) Bones to Chew: Just in case Rooney wanted to be entertained and we weren't doing anything exciting, I brought his chew bones along. At home, Rooney likes to have these to chew on and play with. My favorite new chew bone is the Benebone. It is flavored, so Rooney loves it, and it lasts a long time, so I love it.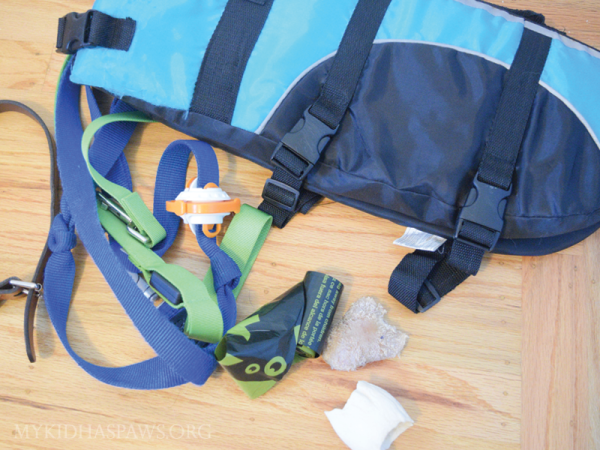 That's it!
We had a great time on our family trip and hope it won't be long before we travel again!
What are your travel essentials?