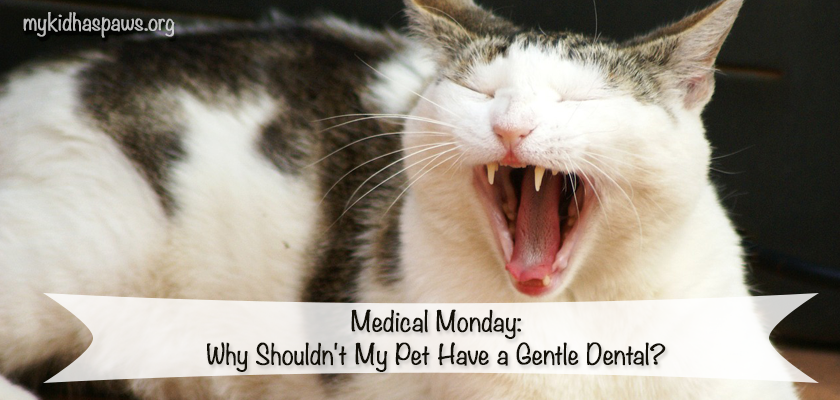 Welcome to another edition of Medical Monday where we discuss veterinary medical issues experienced by pets and their families.
Throughout National Pet Dental Health Month, pet bloggers everywhere have been writing about the importance of pet dental health.
By now, many pet parents are aware that dentals are imperative to the overall health of your pet, but what I want to talk about today is why pet's shouldn't have gentle dentals.
What is a gentle dental?
Its cleaning your pet's teeth without the use of anesthesia. Typically, your pet is wrapped in a towel or restrained during the "cleaning" (Pacific Animal Hospital).
What are the benefits of a gentle dental?
The only perceieved benefit, in my opinion, is that there is no anesthesia. At the same time, that is also part of the problem with gentle dentals.
I understand that no pet parent wants to risk an anesthetic procedure. That is why veterinarians recommend preanesthetic bloodwork, and sometimes a urinalysis, to make sure that your pet is healthy enough for anesthesia. Additionally, do your research and make sure that your veterinarian and their staff can appropriately care for your pet during the anesthetic procedure.
What should I watch out for?
If your veterinarian determines that your pet isn't healthy enough for an anesthetic procedure, but a teeth cleaning is highly recommended, please only go to a veterinarian for gentle dental procedures. Many people will offer these procedures at a groomer facility or pet store, but they may not be trained appropriately and might do more damage to your pet's teeth than good.
Why do many veterinarians discourage gentle dentals?
Let's be honest, have you ever tried to look in your pet's mouth for an extended period of time? How long will they allow you to prod their mouth? Not long for most dogs or cats. A gentle dental is just that, someone prodding in your pet's mouth with sharp, scraping instruments. During a gentle dental, your pet's teeth are scrapped to remove tarter and plaque. However, similar to human dentistry, your plaque and tarter are coating the teeth firmly, and have cumulated under the gum line (Pacific Animal Hospital).
Here are some of the potential risks with gentle dental procedures:
1) Your pet can easily be injured if they move abruptly while there are sharp dental instruments in their mouth.
2) The plaque and tarter will be left under the gum line where it will continue to harvest infection and cause problems for your pet's dental health.
3) The abrupt scraping on the teeth can actually cause damage the to teeth, creating new spaces for plaque to grow.
4) The person cleaning your pet's teeth, won't be able to clean the side facing their tongue because they can't properly clean those sides of the teeth unless the pet's mouth is propped open. As someone who has performed dentals herself, I can tell you that I can't imagine trying to clean the inside of a pet's back teeth without them being anesthetized and having their mouth propped open. Let alone clean them properly.
5) The person performing the procedure might be completely untrained in pet dental health.
What if I don't want to risk anesthesia or a gentle dental? How can I prevent plaque build up on my pet's teeth?
There are many ways to improve your pet's dental health as preventative treatment.
Brushing your dog's teeth is the most obvious solution, but also the most challenging. For tips on how to accomplish teeth brushing in a dog who hates to have their teeth brushed, I will refer you to my friend Carol Bryant at Fidose of Reality 10 Tips for Dogs Who Hate Teeth Brushing.
Have your seen advertisements for gentle dentals? Have you ever considered opting for this procedure?