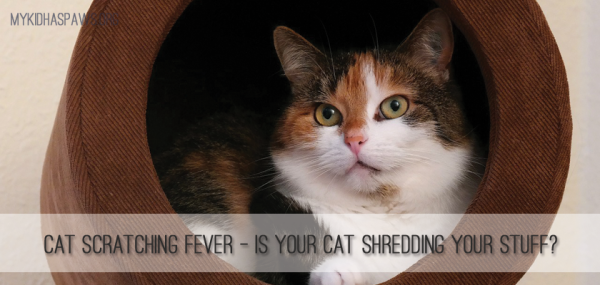 Hi Everyone!
Today Suzy, The Dog Training Lady, our resident pet trainer, is sharing with us some tips on How to Keep Your Cat from Shedding Your Stuff. Enjoy!
How much money do you spend replacing items your cat shredded? If you have a cat, you know that they will scratch stuff up. Some cats will do this more than others.
When trying to correct any behavior in pets, it is best to start with understanding the why.
Why do cat scratch? I'll give you three good reasons:
Maintaining the health of their nails. Cats have another sheath, or shell on their nails. In order to remove this, they scratch. This is just like when you cut your nails down, and file them, that's what they are doing. You may have even seen these nail remnants on the floor. This helps to keep their nails sharp, remove the dead part of the nail, and to catch prey. Even if they have no need to catch their own food, this is something that is part of their nature.
Cats scratch to exercise, it helps them work out their shoulder and back muscle. You may have seen this when they stretch and they are clawing at your carpet. It looks like they are doing a yoga pose called the "down dog" it this case it should be called the "down cat".
Cats scratch for a variety of emotional reasons too. They become frightened, annoyed, or just relieved that you are home.
As you can see, these are necessary, and natural behaviors for cats. We should not stop them from this behavior; it's in their DNA. However, we may want to teach them where they should scratch. Give them items other than our furniture, and curtains to express their feelings, and exercise. This is a good reason to have many scratching posts available for them to use.
For this reason you should never, ever punish your cat for scratching. It is a natural behavior of cats, they are not doing anything wrong, so don't confuse them, and make them afraid or have negative feelings towards you. You just need to provide them the right outlet for this behavior.
When selected scratching items, be sure that they are sturdy, and well constructed. One thing I noticed with my cats is if the item is not secure, and it moves around while they are trying to scratch it will startle them, and they won't use it. Make sure the item is securely in place and won't swing, or move while they scratch it.
Make sure that it is high enough to allow for a full cat stretch.
Items with sisal rope are a great selection, and tall posts with carpeting on them are another good selection. Many of these items are treated with catnip in order to attract the cat to them.
Let's get to training: so they use these items instead of your furniture, and curtains.
The best way to do that is make a game out of it. Dangle a teaser toy, one with a feather or item the like to chase. Dangle this toy over the scratch post or tree you have for them to scratch, and see if he, or she, will scratch it. If your cat does not show an interest, just keep playing, and try another scratching post. Be sure to have more than one. Get ones made of sisal rope, and a cat tree, or post covered with carpet. Your cat will select his preferred post, and then you can go with that.
I have even had my cats watch as I scratch the post with my nails, to get them to be a copycat. (Hey, I had to get a laugh in here somewhere – okay I'm not a comedian). Many have catnip infused rope, if not you can put catnip on it yourself. If you cat is not a catnip kind of cat, but is food motivated, put a treat on the tree or post, so they have to reach up and get the treat. In the process, they will scratch the post.
Location, Location, Location – make sure you place these items in plain view. Don't hide them in a spare room. Make sure they can see, and use them. If you are fussy about your décor, then you can purchase items that match your colors. I have seen some pretty decorative cat trees, and you can match them right into the room your cat is in the most. This is likely to be the same room you are in the most.
I have one in my living room, and my bedroom, because the cats are there the most. (I guess that shows that I am too). I also have more on my catio; because they hang out there during the day, and I want them to know the scratching post is what they should use.
What to do if your cat has already clawed up some of your furniture?
I bet it is the corners of the chairs and sofa that have been mauled. First, many if not all, pet stores have double sided tape available. Place a sheet or covering of some kind over the furniture. Make sure the bottom of the covering is closed, so they can't go under it, and scratch.
Place the double sided tape on the covering in the places where they have scratched the furniture. The reason I say this is because when cat's scratch they leave a scent, and it is possible that they will still sniff out their previous scratching spots. Because this tape is sticky, it is a deterrent.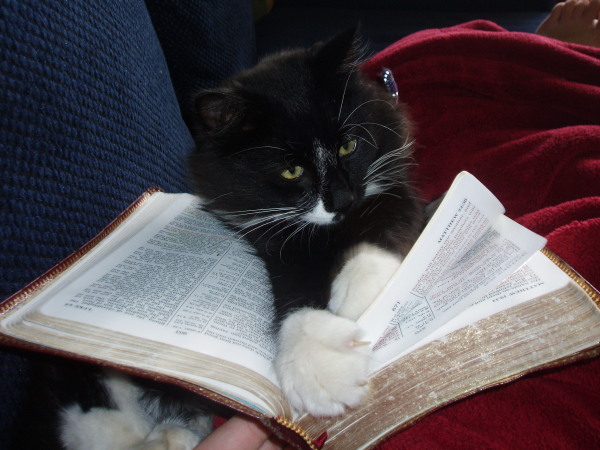 You have to provide the appropriate outlet. There are many scratching devices available both vertical, and horizontal. See which one your cat prefers if you want him to use it, and not your furniture or curtains.
I hope I have been able to give you some great ideas of how to go about getting rid of cat scratching fever.
If you have any questions, please be sure to contact Rachel and she will get them over to me.
Before I go, I would like to mention one thing that may be on your mind to rid the scratching, and that is declawing your cat.
Please DO NOT declaw your cat. For one thing if by chance your cat accidentally gets out of the house, it has absolutely no way to defend itself or even climb up a tree to escape.
Declawing a cat is a medical procedure that needs to be done at a veterinarian's office. As it is a medical procedure, I will let Rachel explain exactly what this entails. (It is not pretty).
If you put in the time to train your cat, it won't take long and they will get the hang of it, or claw of it, if I may say. (Sorry, tried another joke there, okay I'll stop now).
I would like to thank Rachel, and Rooney for letting me guest blog again this month. I really enjoy talking about cats, even though I am a dog trainer. So from this cat lover to another, have a wonderful month, and I'll talk to you next time.
Until next month.
Pawsitively Yours,
Suzanne Dean, ABCDT
I will be sharing a post next week about what a cat declaw surgery entails, so stay tuned!