We have all been there.
Covered in water, trying to keep our dog who doesn't want to take a bath, to stay in the tub. Struggling to find, or reach, a dry towel to dry them off before they go running around the house getting everything all wet.
Or better yet, we have been trying to reach the gross old towel we leave by the door to wipe off our pet's paws before they run inside and leave their muddy paw prints all over our carpet.
Fret not pet parent, Luv & Emma's Dry Pets has come to our rescue:
Bath Time
Even though Rooney enjoys bath time, I still struggle to keep myself and the towels dry. That's why I love Luv & Emma's Dry Pets bath towel. It is made with two stretchable openings on either side that allow it to easily hang from the door handle so it stays dry during bath time.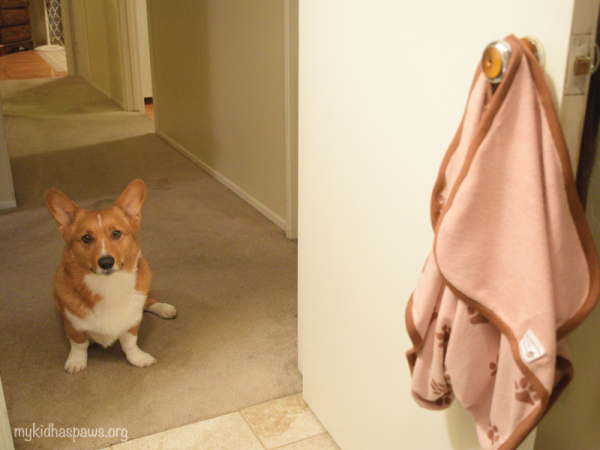 Better yet, Luv & Emma's Dry Pets bath towel is made of super absorbent microfiber material so that is makes drying your pet a breeze!
Keeping Paws Clean
Not only does Luv & Emma's Dry Pets work extremely well for bath time, it also helps with muddy paws!
Rooney loves mud, and therefore loves to come in the house with muddy paws. Instead of keeping a pile of towels by the door, we are able to keep our Dry Pets towel there to wipe his paws when he comes in the house from the backyard.
Although we haven't had much rain this year, I know many other pet parents have floors that could use the help of Luv & Emma's Dry Pets.
Additional Features:
Hangs on virtually any door handle
Dries quickly
Eliminates paper towel waste
For all sizes and breeds
Stylish Design
Sewn in the U.S.A.
Machine Washable
Recyclable Packaging
Not only have the creators of Luv & Emma's Dry Pets created a product that will help make your life easier, they have taken into consideration green production initiatives, variability in dog breeds and door handles, and they are helping to keep our homes clean and stylish.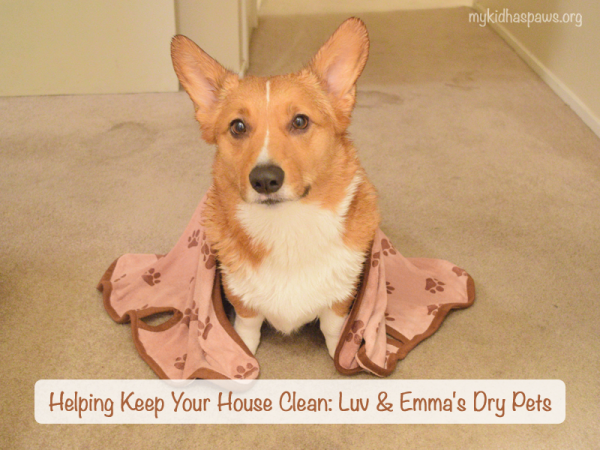 What sizes are available?
The Luv & Emma's Dry Pets towel comes in two sizes: Dry Pets & Dry Pets Plus.
How did Luv & Emma's Dry Pets get started?
Luv & Emma's Dry Pets towel was started by the DMJ Group, Inc., which is a company owned and operated by three sisters. Within the family, they have extensive experience in sales, marketing, and finance.
Their product was named after two dogs in their family.
Luv is a 7 year old Collie and Emma is a 13 year old Yorkie, both of these dogs love to go outside for walks and playtime. One day, the creators of Dry Pets said to themselves, there has got to be an easier way to wipe their pet's paws without having unsightly old towels by the door. So they created Luv & Emma's Dry Pets!
How can I get my hands on one?
You can purchase your very own Luv & Emma's Dry Pets online, here.
OR, you can enter our giveaway below: