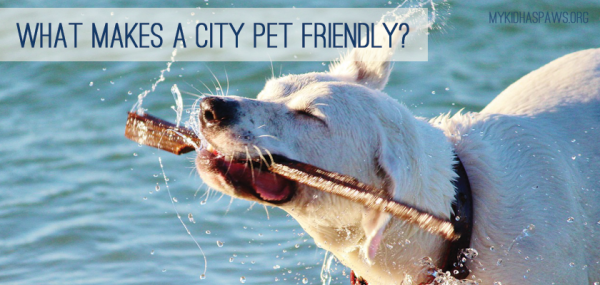 In March of last year, Adopt-A-Pet.com composed a list of the 5 most pet friendly cities in the U.S.
1. Colorado Springs, CO
Colorado Springs earned this prestigious position due to their high pet:people ratio, 7 dog parks, and luxurious pet friendly hotel, The Boardmoor Hotel.
2. Orlando, FL
Orlando's proximity to Disney World provides an attractive opportunity for people to bring their pets with them on vacation. That's why this city boasts some of the most pet friendly hotels, along with a collection of dog sitters and groomers.
3. Portland, OR
Portland provides picturesque outdoor activities for both humans and their four legged companions. The city has 20 parks designed for pets, and encourages most pet owners to bring their pets with them on outdoor activities.
4. Asheville, NC
This city has extensive pet boutiques and a variety pet photography, grooming, spas and other luxury treatments.
5. San Diego, CA
This city provides pet friendly shopping opportunities in addition to pet friendly beaches!
Forbes compiled a different list in 2013 that included some of the cities from above and Seattle, WA, Chicago, IL, Austin, TX, San Francisco, CA, Milwaukee, WI, and Minneapolis and St.Paul, Minnesota.
Many of these city's benefits included:
Dog Parks
Dog Friendly Shopping
Dog Beaches
Pet Stores
Grooming Facilities
Veterinary Hospitals
Dog Friendly Walking Tours
Dog Yoga
Dog Paddleboarding
Forbes did site that this list was originally from rent.com and the areas were ranked based on number of dog parks, number of dog-friendly business establishments, costs of pet care, dog-centric events, and walkability.
I personally think the pet-friendliest cities are the ones that have exactly what YOU as a pet parent are looking for, so I thought, why not ask my readers what is important to them?
Below is a little survey to see what is most important to you, and whether or not your city provides you with the best for your pet.
I look forward to your responses!
Create your free online surveys with SurveyMonkey , the world's leading questionnaire tool.