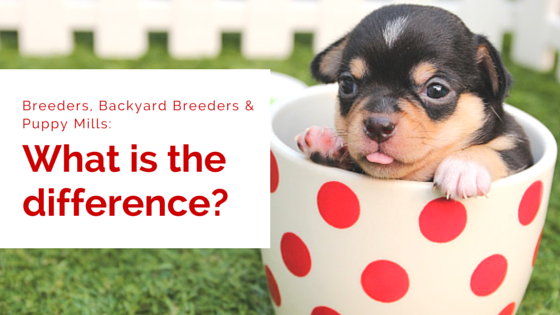 While working at the veterinary hospital, it became apparent that many pet parents are unaware of the differences between Breeders, Backyard Breeders, and Puppy Mills.
Why is it important to know the difference?
It is important to understand that the animal world is not black and white. All breeders are not puppy mills, and all people who breed are not considered responsible breeders.
More importantly, I think information is power. Although, I would like people to adopt from rescues and shelters, I understand that the world does not revolve around what I want. Therefore, I hope that people will use this information to make more informed decisions.
Breeders
What is a breeder? Technically, anyone who breeds two dogs together is considered a breeder.
However, many breed enthusiasts who also breed dogs, take a very high level of pride in preserving the integrity of their breed, and are also very knowledgable.
Responsible breeders take the time to take their puppies to the veterinarian regularly, because their focus is to produce the healthiest puppies possible.
Frankly, I understand breed enthusiasm. Rooney is a purebred dog, and he came from a breeder at some point. However, we adopted him home through a local Corgi rescue.
Backyard Breeders
What is a backyard breeder. Dogtime.com defines a backyard breeder as someone who casually breeds dogs without regard for improving or maintaining breed standards. Additionally, they make no effort to document the breeding.
Example: This would be your neighbor who had an unspayed female dog, and then brought home an unneutered male, and then they had puppies by accident.
Typically, they are not knowledgable about puppies or the breed.
Puppy Mills
"A puppy mill is a large-scale commercial dog breeding operation that places profit over the well-being of its dogs – who are often severely neglected – and acts without regard to responsible breeding practices." – ASPCA
The number one goal of a puppy mill is to make money. They could care less about the health of their dogs.
While I am not here to tell people what to do, puppy mills must be stopped.
If you are ever looking for a purebred puppy, please be aware of online sites that promise puppies overnight, or in a short period of time. More often than not, these puppies are coming from puppy mills, and in order to get them to stop, they need to have less demand.
Below is a video produced by Positively.com, this video was produced in order to help raise awareness about the importance of adoption and rescue.
Ruggles and Chompers are the best of friends! Despite having rough starts, these two now lead happy and healthy lives because they were rescued. Enjoy!
Tell me, did you find this information helpful?