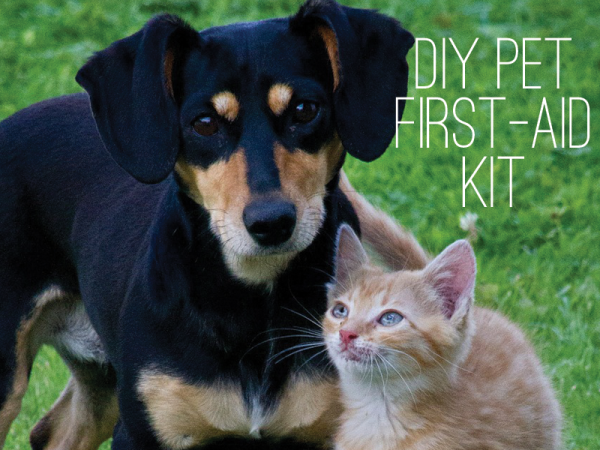 Today, I am joined by my good friend Denise Fleck. A while back, I reviewed her awesome book Don't Judge A Book by its Cover and discussed her awesome work with the Burbank Animal Shelter. Not only does Denise write books and create programs to educate children and teens about the importance of pet adoption, she is also a Pet First-Aid and CPR Instructor. Today, she is here to show us how to make a DIY Pet First-Aid Kit.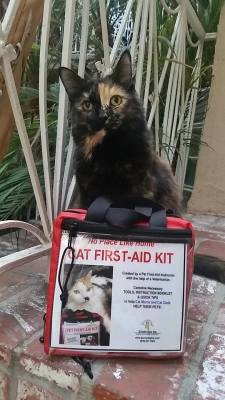 April is National Pet First-Aid Awareness Month, and although it is a topic pet parents should have on their minds year-round, this is a great time to make sure you learn animal life-saving skills and have a well-equipped up-to-date tool kit (aka your Pet First-Aid Kit) readily accessible. You probably have many items at home, but get them together in one place. Precious time is often wasted running upstairs for bandages and looking in cabinets for needed items.
A Pet First-Aid Kit however, is only as good as the human at the other end of the leash meaning…if you use something up, you need to replace it! If it has expired, get another, and…know how to properly use everything in your kit so that when you need to bandage a wound, pull a tick or soothe an upset canine tummy, you are ready to go!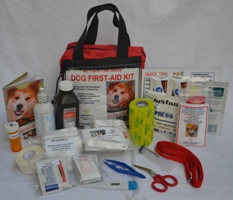 The most basic items should include:
3% HYDROGEN PEROXIDE – To flush minor wounds and induce vomiting due to poisoning. Dribble 3% Hydrogen Peroxide into your pet's mouth with a needle-less syringe. Dosage is 1 tablespoon per 15 lbs. of the animal's body weight, but make sure your peroxide never gets too warm or is past expiration!  For caustic toxins or unknown substances, do not induce vomiting. Dilute by feeding your pet water or non-fat yogurt and get to veterinary help. When in doubt, call your veterinarian!
EYE WASH OR SALINE SOLUTION – To flush minor wounds and clean eyes.
4" X 4" GAUZE SQUARES – To control bleeding.
ROLLED GAUZE – To secure the gauze squares in place.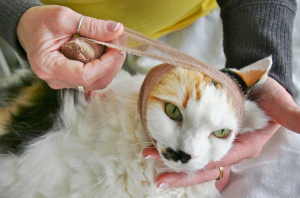 ADHESIVE TAPE or SELF-ADHERING BANDAGE – To secure rolled gauze in place. 
COLD PACK – To aid in Heat Stroke, swollen joints, burns and bee stings.
ANTIOBIOTIC OINTMENT or PURE ALOE VERA GEL – To soothe and promote healing. 
NEEDLE-LESS SYRINGE or EYE DROPPER – To administer medications and other liquids.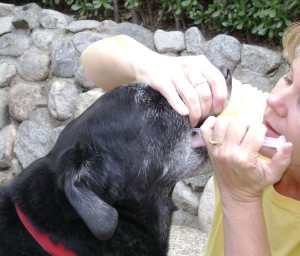 DIGITAL THERMOMETER – To check your pet's temperature. Normal temperature is 100.4° – 102.5° Fahrenheit and is taken "under the tail."
STYPTIC POWDER & COTTON SWABS – To control bleeding on a minor injury.
SAFETY SCISSORS – To cut bandaging material or trim fur short around wounds.
TWEEZERS – To pull tick or remove debris from a wound or in the mouth.
ANTIHISTAMINE TABLETS – For those times when a bee stings or a snake bites. Dosage is 1 mg per pound of pet's body weight (ex. 10 lbs. cat gets 10 mg), but if your pet experiences major swelling or breathing difficulties, GET TO THE VET!
ANTACID TABLETS OR LIQUID – To soothe an upset stomach.
ELECTROLYTE REPLENISHER – To aid in rehydration. A great home recipe:
1 Quart Fresh Water (bottled or filtered preferred)
1 Tablespoon Honey
1 Teaspoon Salt
            Mix and store in refrigerator but serve at room temperature making a fresh batch daily.
            Throughout the day, dose 3 Tablespoons for puppies/kittens
5 Tablespoons for pets up to 5 lbs.
¾ cups for pets up to 10 lbs.
¼ cup per 5 lbs. of body weight for pets 15 lbs. and more
LEASH – To wrangle a pet in need of help or use as a temporary muzzle.
TOWEL OR BLANKET – To cover a pet who has gone into Shock OR to use as a sling or stretcher.
PET FIRST-AID HANDBOOK – To assist with the important details you need to know. Check out Denise's Pocket Guide series here http://www.sunnydogink.com/products/books.html 
PHONE NUMBERS & ADDRESSES – Keep this information regarding your Veterinarian and nearest Animal Emergency Center readily available.
We have created this Infographic for anyone who would like to share: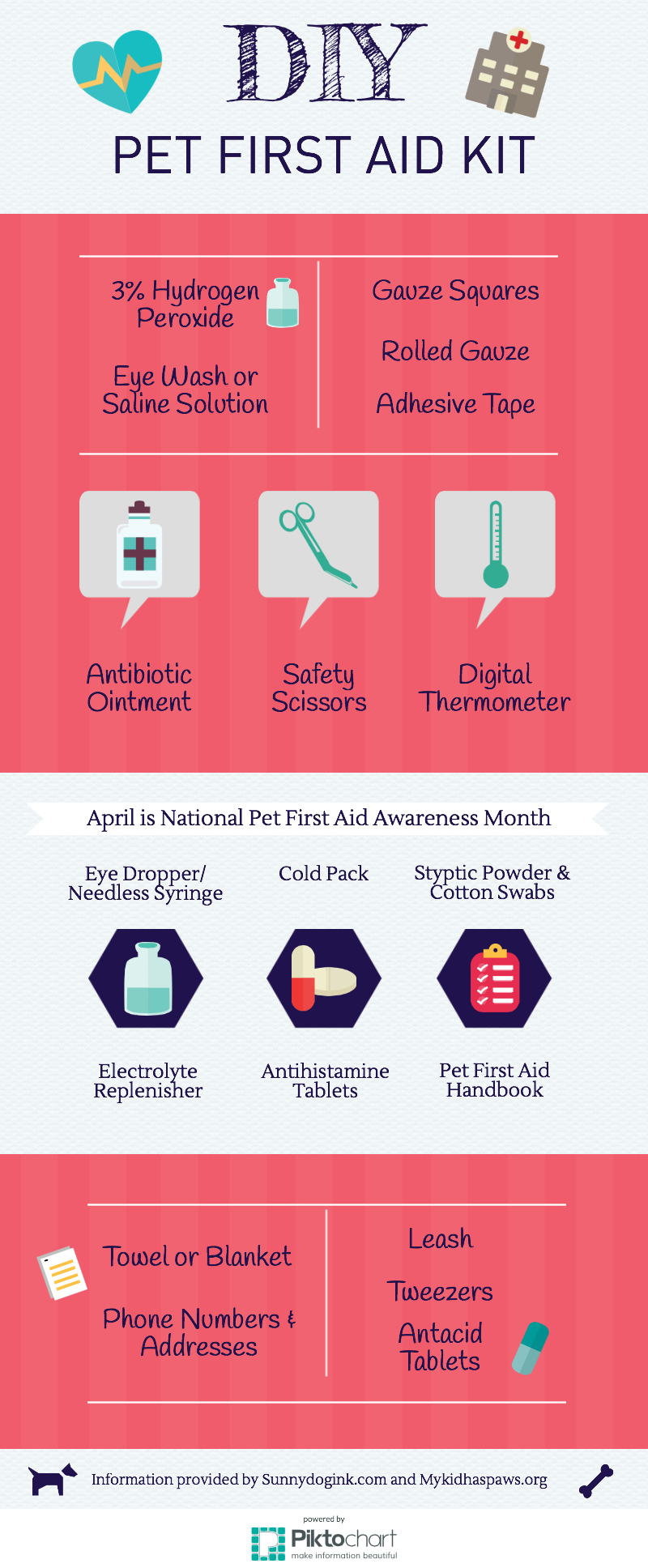 Now that you've made it, where to keep it? For safety sake, one in the house and one in the car. Just remember the one in the car may get hot at times, so you will need to replace the hydrogen peroxide and any meds more frequently, along with adhesive tapes which sometimes go bad under high temperatures.
Pets lower our blood pressure, share unconditional love and enrich our lives in so many ways. Don't wish you HAD learned Pet First-Aid and assembled a Pet First-Aid Kit. Get the tools and learn what to do for those inevitable times when an injury or illness could happen to your best friend.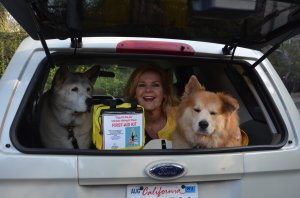 Denise Fleck is an award winning author and Pet First-Aid & CPR instructor. She also developed and teaches an Animal Care course through the Burbank Unified School District and has demonstrated animal life-saving skills on CBS –TV's "The Doctors" and Animal Planet's "Pit Boss," and many other shows. To complement her teachings, Denise created a line of Pet First-Aid Kits, posters and books for children teaching animal respect and care!  Learn more at www.sunnydogink.com.
I want to thank Denise for sharing this invaluable information with us!
Tell us, will you be creating your own Pet First-Aid Kit?