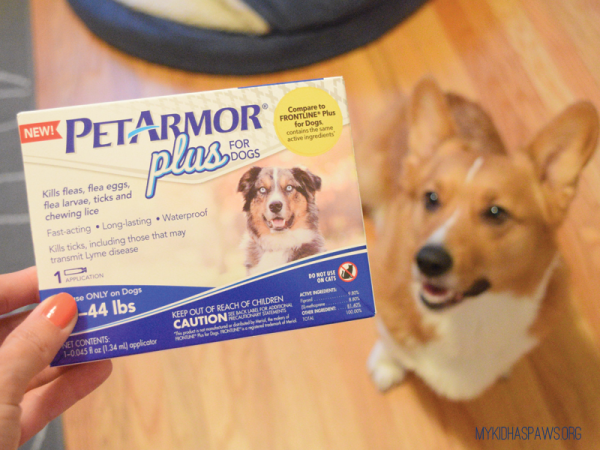 This post is sponsored by Perrigo Animal Health, and the BlogPaws Professional Pet Blogger Network. I am being compensated for helping spread the work about the launch of a new topical flea and tick treatment, but My Kid Has Paws only shares information we feel is relevant to our readers. Perrigo Animal Health is not responsible for the content in this article.
PetArmor® Plus is a flea and tick preventative that uses fipronil as its active ingredient. Fipronil is the number one veterinary-recommended active ingredient. PetArmor Plus protects your pet against fleas, flea eggs, flea larvae, ticks and chewing lice.
Not to mention, PetArmor Plus provides you with a cost effective alternative to make sure your pets are protected against fleas and ticks.
While working at the veterinary hospital, I learned that California tends to have a larger flea and tick problem than many other areas of the U.S.
Why?
Well, our winters are mild, and our temperatures don't drop low enough for the fleas or ticks to freeze. Therefore, we are fighting the flea and tick problem year round. Treating your pet with flea and tick preventative is an easy and effective way to prevent skin issues and protect your pet from potentially fatal Lyme disease.
Sadly, I have known a few pets who have become very ill or have passed due to Lyme Disease. It is so important to take the steps to prevent your pet's exposure to such a fatal disease.
Additionally, many of my former patients suffered from dry and itchy skin as a result of flea allergy. Some pet parents are unaware that your pet can react negatively to just one flea bite. Your pet doesn't have to have a full flea infestation in order to suffer from the effects. Therefore, it is important to keep even your indoor animals on flea and tick preventative.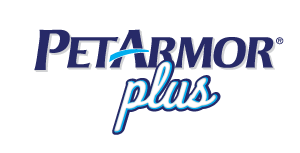 Often, pet parents decide to skip out on the flea and tick prevention because they feel its expensive. I myself don't have an expendable income and therefore need to save wherever I can. This is why I am happy to announce that PetArmor Plus costs 40% less than its competitors.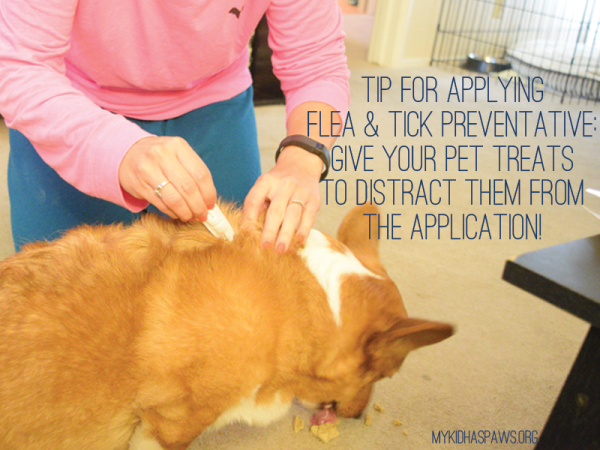 In order to make sure that your pets are fully protected:
1) Your puppy needs to weigh more than 4 lbs and your kitten weigh more than 1.5 lbs.
2) Make sure all pets are over 8 weeks of age.
3) Buy the correct product for your pet's species and size. Always choose a cat product for cats and a dog product for dogs. These products should not be used interchangeably between species.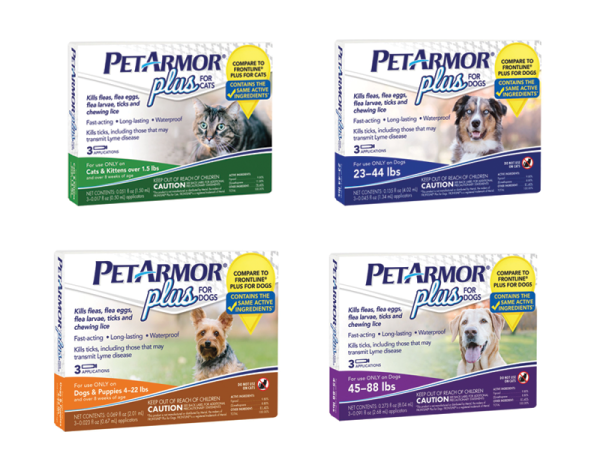 4) Don't split the tubes between pets.
For a chance to win a 3 month supply of PetArmor Plus for your dog or cat, please enter our giveaway below.
To purchase PetArmor Plus at your local store, please click here to check out their affiliate stores.
To learn more about PetArmor Plus, please visit their social media sites below:
Facebook: https://www.facebook.com/petarmor
Twitter: https://twitter.com/petarmor/
PetArmor® Plus is not manufactured or distributed by Merial. FRONTLINE® is a registered trademark of Merial. pricing comparison based on average veterinarian retail price survey of FRONTLINE® Plus (December 2014) and MSRP of PetArmor® Plus (January 2015). Data on file.