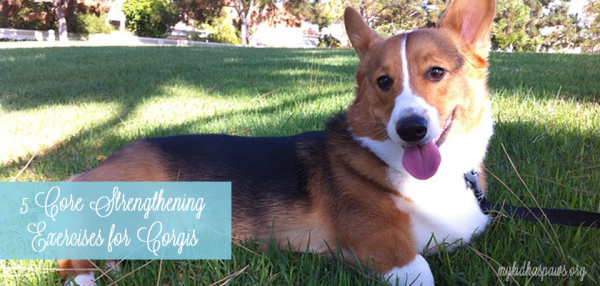 Just over a year ago, Rooney slipped a disc in his back.
This is something I was prepared for because Corgis are extremely prone to back problems.
As a Corgi owner, it is so important to be aware of the symptoms associated with a slipped disc. For us, I knew something was up because Rooney didn't want to walk or move, not even for treats (that was the real indicator).
Although Corgis are known for their back problems, there are things we as pet parents can do to help our Corgis protect their backs.
Similar to our anatomy, strengthening their core, will help protect their back. Therefore, I have put together a list of 5 core strengthening exercises you can do with your Corgi that will help protect their back and improve their stability.
1) Nose to Butt: Several different sites recommended this stretch. Paw Print Genetics recommends having your dog sit and then using a treat, get them to turn their head toward their back end on each side. When moving from side to side bring the treat out in front of their nose, while they face you, to stretch their neck slightly up and forward. The idea behind this exercise is to get your dog to strengthen their muscles that are equivalent to our obliques, while also stretching their neck and back. Over time, you can gradually increase the time that your dog holds the strengthening position. Corgi backs are sensitive, so please work your way up to a full stretch slowly! Just like humans, dogs can get injured if you try to overdo an exercise or stretch too soon!
2) Balance on 3 legs: This is a stretch I have seen veterinarians recommend quite frequently. The important thing to remember when doing this stretch is to have your dog start out on a stable surface. If you have hardwood or tile floors in your home, I highly recommend doing this exercise on a yoga mat. Start by having your dog stand squarely on all 4 legs. Then, gently hold up one of your dog's legs and have them balance on their other 3 legs for 20-30 seconds. You can then repeat the same exercise with the other 3 legs. Over time, you can increase the length of time in which your dog holds the stretch and the number of repetitions (Veterinary Integrative Performance Services).
3) Use a Balance Ball: Getting your dog to stand on a balancing ball or balance pad is a great way to engage their core and strengthen their muscles. When using these balancing tools, you want to make sure the ball or pad is stabilized to prevent injury. Additionally, you want to make sure that your Corgi's long body can fit comfortably on the device. Start by having your dog stand on the balance ball or pad with all 4 legs. You can gradually work up to doing sit-stand exercises (see below) while on the balance ball.
A FitPAWS Balancing Pad is recommended as a beginning balancing tool and provides a beginner level challenge for balance.
A FitPAWS Balance Disc is recommended as a step up from the balance pad.
If you purchase either of these items through Tripawds, you will be supporting an amazing organization that provides support for pet parents who are facing a cancer diagnosis with their pets. To learn more about Tripawds, please click here. To purchase these items through Tripawds, please click here.
4) Sit-Stand Exercises: Start by having your dog sit square and then stand up, and then sit again, repeat about 3-4 times. This exercise will help strengthen the muscles in their hindquarters. As your dog improves, feel free to increase the number of repetitions.
5) Nose Stretch:  SlimDoggy is an excellent doggy fitness resource, and they recommended the nose stretch as a core strengthening exercise. Start by having your dog stand with something in front of their back feet, and then get them to lean forward for a treat. You want their back feet to remain behind the item (like a 2 x 4 piece of wood), as they reach forward. The goal is to get them to hold this position for 10-15 seconds, for 4-5 repetitions.
Please consult with your veterinarian about your Corgi's fitness level before starting these exercises.
I would love to hear from other Corgi owners! Have you tried any of these exercises? What kind of improvement have you seen?