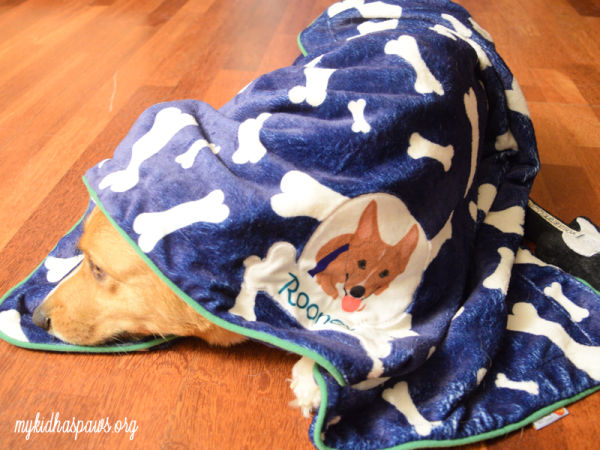 Okay, I have a confession to make….
…I love blankets.
I always have, and I think at this point, it's safe to say that I always will. When I sit down in my house, I need a blanket with me. It doesn't matter if its 100 degrees outside, I just need one.
My mom says this was true even when I was a kid. I would always ask for "mankets" (which I believe derived from my-blankets).
Sometimes, when sitting on the couch, I will feel something pulling on my blanket. As if someone is trying to steal my blanket from me. Sure enough, I always look down to find an adorable corgi is trying to steal my blanket.
As it turns out, I am not the only one obsessed with blankets in our house. Rooney loves them too!
He loves to rearrange them. He loves to play with them. And most of all, he loves to steal them from me.
Therefore, I thought it would be a great idea to get Rooney his very own soft, cozy blanket from PrideBites.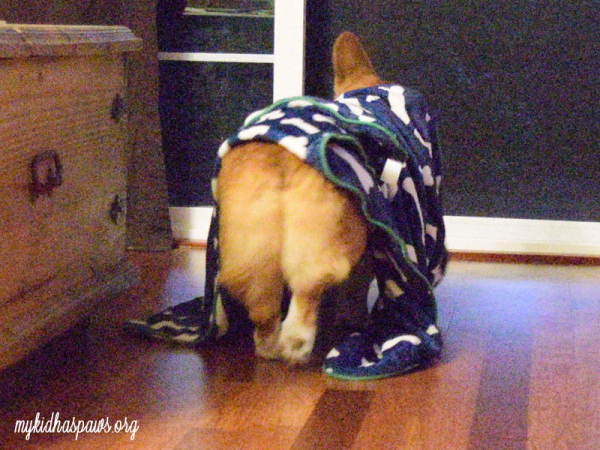 What is PrideBites? 
PrideBites provides pet parents with the opportunity to customize their dogs toys and accessories. I had the opportunity to meet Steven, one of PrideBites founders at the Found Conference I attended a while back. I stopped him to tell him how much Rooney loves Pridebites and how they are so durable and, therefore, are perfect for him! Steven went on to tell me about their journey to creating the perfect dog toy. The founders of Pridebites have put a lot of thought and effort into creating the best toys and products in terms of quality, safety, durability, and ease of cleaning. Therefore, I love to get them for Rooney.
How can I customize my blanket?
You can customize blanket color or pattern, as well as piping color. You can also add their picture and their name!
What other products to they have?
PrideBites has many other products, and I know they are always trying to increase their repertoire. Stay tuned for even more PrideBites fun in the next few weeks!
So now that Rooney has his own blanket for the house, maybe he will stop stealing mine…
….but probably not.
Interested in getting your pet their very own PrideBites item?
Please enjoy a discount at checkout using our code KIDPAW.
My Kid Has Paws is a Pridebites affiliate. We were provided with product in exchange for our honest opinion.