So, it should come as not shock to anyone that I love movies with animals in them.
Just based on the previews for this movie, I know it will be a great movie where I cry a little, laugh a little, and be completely intrigued by the main character's journey.
Movie Background:
From Warner Bros. Pictures and Metro-Goldwyn-Mayer Pictures come "Max," a family action adventure from writer/direct Boaz Yakin. Max, a Belgian Malinois, is a Military Working Dog who is serving on the frontlines of Afghanistan with his handler, U.S. Marine Kyle Wincott. While working an assignment, something goes terribly wrong and Kyle is fatally injured. Max is unable to cope with the loss of his best friend, and is therefore retired from the Marines due to Post Traumatic Stress Disorder. Upon retirement, Max is sent home to live with Kyle's family.
Military Oath: "Where I go, my dog goes. Where my dog goes, I go".
Every member of the family wants to understand Max and create a bond with him on some level, after all, he is the closest thing they have left of Kyle. However, due to trauma, Max is unwilling to connect with any of the family members, with the exception of Kyle's younger brother Justin.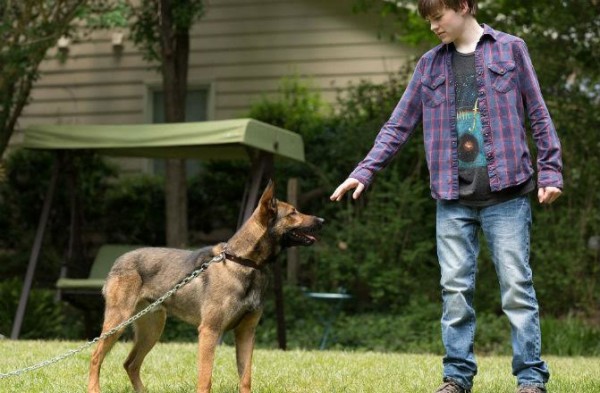 As Justin mourns for his brother, his resentment toward his father Ray, a retired Marine who encouraged Kyle to join the military, continues to grow. Justin's frustration, along with Max's PTSD, is fueled by the reappearance of Kyle's friend Tyler Harne, who was a fellow Marine and notorious trouble maker. Ultimately, Justin finds solace in his new companion, but earning his Max's trust wouldn't prove to be easy.
Did You Know: Military working dogs have such specific sets of skills that they are ranked above their handlers?
Through a mutual friend, Justin meets Carmen. A tomboy from a rough neighborhood who grew up rescuing and training dogs. Carmen is the missing link between Justin and Max. She encourages him to bond with Max, and ultimately shows him how its done. Once Max begins to trust Justin, his instinct to protect immediately resurfaces, and he shows Justin by protecting him and standing by his side. Throughout the film, Justin and Max grow to understand each other and begin their own adventure.
Why the Belgian Malinois?
The filmmakers decided to go with a Belgian Malinois due to their strong drive and athleticism. According to Mark Forbes, the Animal Coordinator, "Malinois have three drives, each to a different degree: hunt, prey and defense."
The dog who plays Max is a 2 year old Belgian Malinois from Kentucky named Carlos. His two stunt doubles are named Pax and Jagger.
In the film, Max's specialized skill in the military is to go out 300 yards in front of their handler to check for danger in the form of weapons and IEDs. The producers felt that this breed would learn how to complete this task quickly off leash, and they were not disappointed.
To learn more about Military Working Dogs and the relationship with their handlers, check out this video below.
Dogs on Set
Each dog hand their own kennel and dog run on location. Additionally, when the weather became too warm, the dogs were able to relax in air conditioned tents and cars between scenes.
Fun Fact: Chihuahua's and Rottweilers also make appearances in this movie.
According to the Safety Representative for The American Humane Association, "The set was extraordinary… Both the director and the second unit director are very animal-conscious and both bent over backwards to make sure that the animals' comfort was taken into consideration. The cast and crew was also incredible. There was quite a bond between them and the animals."
Join me this Friday June 26th to follow Max and Justin on their adventure. I can't wait to see what happens!
For more information on Max, please visit their Facebook page.
Social Contest: For a chance to have your pet featured on the official Max pages, share your story of why your pet is Your Hero using #HeroPet and #MaxTheHero. You can also tag @MaxMovie on Instagram.
Below is the theme song "Forever Young, by Blake Shelton.