Every now and again we would have a patient visit the veterinary hospital who only had three legs. I remember one patient specifically, Samantha. She was a beautiful Queensland/Australian Shepherd Mix who was missing one of her rear legs, but was as happy as could be. The owner of this dog would often receive questions from other pet parents while waiting in the lobby. Usually to the effect of, "Can she get around okay?" or "Does she need any extra assistance to move?". The truth was, Samantha was as happy-go-lucky as any other dog on the planet. We knew this of course, but many onlookers and other pet parents were curious. This very situation is why I am so excited to tell you about Tripawds.
What is Tripawds?
Tripawds is the largest online community for three legged pets and their people. Their mission is to help pet parents whose pets may be facing amputation and/or a cancer diagnosis. Their community provides pet parents with helpful information, resources, support, discussion forums, live chat, and various other informational sources.
Why is this important?
One of the most aggressive types of cancer found in dogs is an osteosarcoma of the limb and pets all over the world are being given this diagnosis. When pet parents hear these words, they often think their options and resources are limited. However, Tripawds provides them with a community and information they are looking for. Many pet parents are unaware that pets can live long and healthy lives with less than four limbs, and their diagnosis doesn't have to be the end to their quality of life.
How did Tripawds get started?
Well, back in 2006 Jerry, a German Shepherd, lost a limb to cancer. His parents Jim Nelson and Rene Agredano decided to start a WordPress blog in hopes their story could be helpful to other pet parents experiencing the same decisions.
Then they decided to take their story one step further and they sold their home and almost all of their belongings to purchase an RV, and traveled around the country with Jerry. They began documenting their journey and their travels through their blog. When Jerry passed away in 2008, their Tripawds community had grown to include discussion forums and a chat room. Today, the Tripawds network hosts more than 900 three legged dog and cat blogs with over 8,100 registered members.
Watch this video below to learn more about Jerry's touching story.
Where is Tripawds today?
Today Jim and Rene travel with their German Shepherd spokesdog Wyatt, who I had the pleasure of meeting at BlogPaws. Wyatt became a Tripawd as a puppy due to neglect, but now lives a full life traveling the country.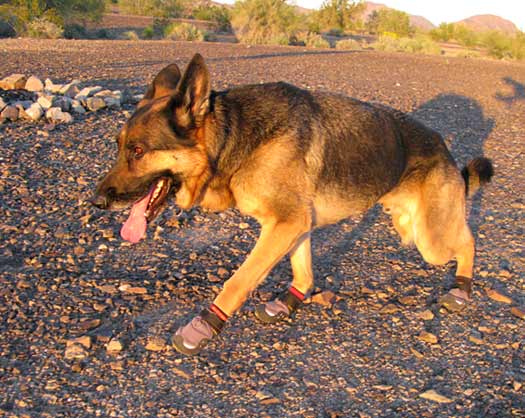 In 2014 the new Tripawds Foundation officially received 501c3 status. Their mission continues to help amputee pets and their people everywhere. Their information remains free and available to anyone who needs it. Additionally they have added a toll-free helpline that is staffed with volunteers to help people whose dog or cat is facing amputation.
How can you help?
If you work for a veterinary hospital: whether you are a veterinarian, technician, assistant, or receptionist, please .contact the Tripawds Foundation and they will provide you with free amputation patient education materials.
If you have a Tripawd pet: please share your story on their blog! Or share your blog with Tripawds. Tripawds believes that each person's story or journey can provide support to other pet parents facing the same diagnosis. You can also find helpful products and information in the Tripawds Gear blog.
If you are a fellow pet blogger: show Tripawds your support! Jim and Rene can provide you with informative content and you will be helping this community remain online! Visit their supporters page for various other ways to support the Tripawds community!
If you are a pet parent: support Tripawds by purchasing Fitness Gear or Beds on their site. You can also follow them on their Facebook and Twitter accounts to see when they will be in a city near you!
Tell me, have you ever heard of Tripawds before?