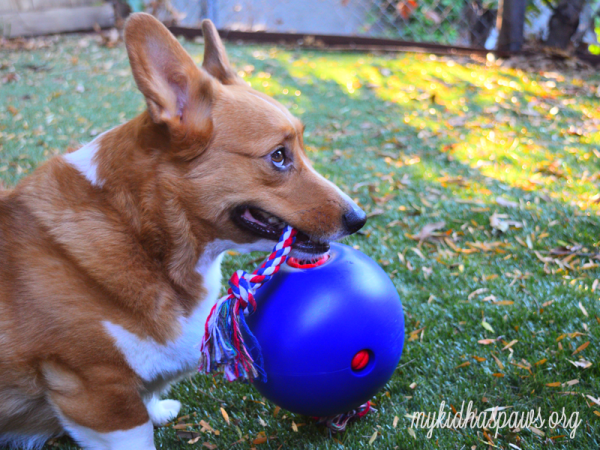 Have you ever been in a situation where your pet could use some play time, but you are swamped?
I can't tell you how many times this has happened to me recently. With working full-time, completing my MBA, and keeping up with our pet blog, my time to play with Rooney isn't infinite.
Therefore, there are times when he wants to play, and he deserves to get play time, but I didn't have a lot of time to spare. Meaning, when I set aside playtime with Rooney, I wanted it to be high quality.
That is where the Tuggo comes in!
The Tuggo is, "a simple variable tension tug-o-war toy for one or more dogs to have fun and exercise with."
The design of the ball features a hard plastic that is extremely durable. Seriously, this toy has been tested against the teeth of tigers!
The Tuggo can be filled with water to add up to 18 pounds of resistance (Tuggo mini can carry up to 6 pounds) so that your dog can play on their own. Not only does the water weight provide resistance as your dog is playing, the swishing of the water back-and-forth causes the ball to roll which keeps your dog interested.
The rope installed in the middle of the Tuggo can be pulled from either side, so it is great for a single or multi-dog household. Check out the dogs in this video having a great time!
In case you needed more reasons to love the Tuggo:
If you leave the Tuggo empty, it becomes a great toy to use at the lake or in pools!
You can easily replace the rope in the center if need be, especially considering that the ball will certainly last the test of time.
The resistance and continuous exercise provided by the Tuggo helps your dog build muscle and stay in shape.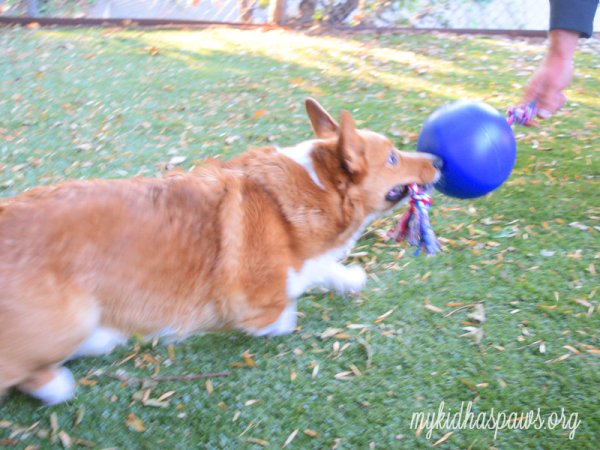 Tuggo launched in March of 2014 and won the 2014 PetSmart Innovation Station contest at Superzoo in June! Simple proof that pet parents everywhere love Tuggo, and it didn't take them very long to figure it out!
Rooney simply thought the Tuggo Dog Toy was awesome!
Where can I get one?
You can purchase their 10 inch Tuggo ball, 7 inch Tuggo ball, and replacement Tuggo Ropes all on their website here.
For retail locations, please check their website here. Also, keep your eyes and ears open because the Tuggo Dog Toy will be available at all PetSmart locations by the end of June!
OR….
You could enter our Giveaway!
We look forward to hearing about all the fun your dog is having with their new Tuggo Dog Toy!
Disclaimer: We were provided a Tuggo Dog Toy in exchange for our honest opinion. My Kid Has Paws is always committed to sharing high quality products we believe in!